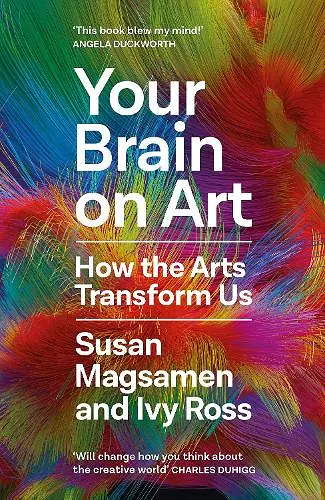 A life-altering journey through the science of neuroaesthetics, which offers proof for how our brains and bodies transform when we participate in the arts - and how this knowledge can improve our health, enable us to flourish and build stronger communities
THE NEW YORK TIMES BESTSELLER

We're on the verge of a cultural shift in which the arts can deliver potent, accessible and proven solutions for the well-being of everyone. Magsamen and Ross offer compelling research that shows how engaging in an art project - from painting and dancing to expressive writing, architecture and more - for as little as forty-five minutes reduces the stress hormone cortisol, no matter your skill level, and just one art experience per month can extend your life by ten years.

Your Brain on Art is an authoritative guide to how neuroaesthetics can help us transform traditional medicine, build healthier communities and mend an aching planet. The book weaves a tapestry of breakthrough research, insights from multidisciplinary pioneers and compelling stories from people who are using the arts to enhance their lives.
Draws on cutting-edge research . . . A compelling case for art's vital role in brain health * * Telegraph * *
Fascinating . . . Drives home the message that aesthetic engagement (no matter how small) can improve your life * * New Scientist * *
Mesmerising . . . The authors detail a wealth of research that shows how doing some sort of artistic activity - dancing, say, or writing or singing - has measurable benefits. And I, for one, am persuaded * * Mail on Sunday * *
This book blew my mind! An authoritative yet practical guide to the neuroarts . . . A romp through the latest science on how art transforms the brain and the body -- ANGELA DUCKWORTH, bestselling author of GRIT: THE POWER OF PASSION AND PERSEVERANCE
Your Brain on Art will change how you think about the creative world - both around you and within you -- CHARLES DUHIGG, author of bestsellers THE POWER OF HABIT and SMARTER FASTER BETTER

An extraordinary and important book. Magsamen and Ross put us back in touch with one of the
defining features of being human - art
-- DANIEL LEVITIN, bestselling author of THIS IS YOUR BRAIN ON MUSIC
A groundbreaking book on the science behind humanity, joy and creativity. Art is the word we use for the magic that makes us better -- SETH GODIN, bestselling author of THIS IS MARKETING
Susan Magsamen and Ivy Ross, through extensive interviews and research, have created something beautiful and affirming with their book
Your Brain on Art
. Its pages provide proof for what so many of us have always known, that art, especially art in community, is transformative beyond measure -- DAVID BYRNE, bestselling author of HOW MUSIC WORKS
This mind-bending book can help shape richer lives and a newer world. It's the best description yet of the indivisibility of art, the natural world, and our neurological health -- RICHARD LOUV, author of THE NATURE PRINCIPLE and LAST CHILD IN THE WOODS
In their captivating book, Susan Magsamen and Ivy Ross have assembled something remarkable: a scientific framework for understanding how art affects us. For anyone who has been transfixed by a painting, or moved to tears by a piece of music, this book provides a fascinating tour of what goes on in the brain when we encounter art's transformative power -- ANNIE MURPHY PAUL, author of THE EXTENDED MIND: THE POWER OF THINKING OUTSIDE THE BRAIN
Neuroscientists know that our experiences sculpt our brains leading to new connections. In this wonderful new book, Susan Magsamen and Ivy Ross show us how the experience of art helps to build connections and pathways for mental health.
Your Brain on Art
makes the case for neuroaesthetics at a time when all of us can benefit from what art can do not only for our souls but our brains -- THOMAS INSEL, former director of THE NATIONAL INSTITUE OF MENTAL HEALTH and author of HEALING: OUR PATH FROM MENTAL ILLNESS TO MENTAL HEALTH
This wonderful book demonstrates that art is essential for health, healing, community, and bliss.
Your Brain on Art
is well researched and well written. I couldn't put it down -- MARY PIPHER, author of WOMEN ROWING NORTH and A LIFE IN LIGHT
Art is often dismissed as a nice-to-have, but this important book shows that it is an absolute necessity for a life well-lived. Everyone should read this book. In it, you'll learn how to reclaim your creativity, heal your body, soothe your spirit, and transform your community -- INGRID FETELL LEE, author of JOYFUL and founder of The Aesthetics of Joy
Your Brain on Art
is just the book we need now. It's an invitation to begin to welcome the arts for your own health and well-being today -- JEFFREY WALKER, author and philanthropist
Your Brain on Art masterfully demonstrates the power of all artistic expression, from visual to
musical, on brain health. This book shows us that a beautiful painting or haunting melody is not
just entertainment, but bountiful nourishment for your brain, mind and soul
-- DR. RUDOPLH TANZI, NEW YORK TIMES bestselling author of SUPER BRAIN
ISBN: 9781805301202
Dimensions: 240mm x 162mm x 30mm
Weight: 550g
304 pages