Everyday Magic
The Adventures of Alfie Blackstack
Format:Paperback
Publisher:Canongate Books
Published:1st Apr '21
£6.99
Available for immediate dispatch.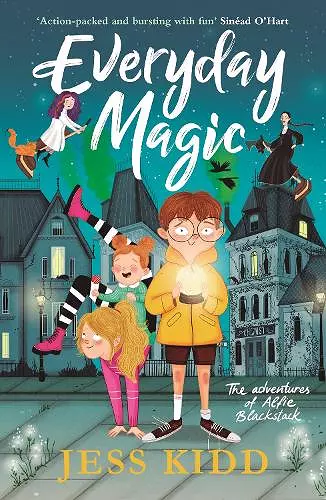 'Had me giggling all the way through . . . I loved it!' Jasbinder Bilan
'Action-packed and bursting with fun' Sinéad O'Hart

Welcome to Little Snoddington, where nothing is normal and every day is magic . . .

Nine-year-old Alfie Blackstack's parents have met a very unfortunate end. Now he's living in the SUPER CREEPY Switherbroom Hall with his mad-haired Aunt Gertie and warty Aunt Zita. The thing is, Alfie's aunts aren't just weird - they're WITCHES!

When the circus arrives in town Alfie makes his first ever friend, the FEARLESS Calypso Fagan. But when Calypso's little sister Nova disappears, they must face the TERRIFYING Head Witch in a race to find Nova and stop the next Witch War.
This charming crazy story had me giggling all the way through - a magical story about the power of true friendship - I loved it! -- JASBINDER BILAN, author of ASHA & THE SPIRIT BIRD
Hilarious . . . Kidd balances immersive storytelling in scenes chock-full of absurd detail and incident, with authoritative narrative asides that puncture the suspense with comedy. Everyday Magic is an absolute treat of a book that will appeal to children who love magic, funny books or both * * Irish Times * *
A spellbinding mix of friendship, fun and flying vacuum cleaners. Its pages positively crackle with enchantment * * Sunday Express * *
Featuring daring circus tricks, mischievous little sisters, the mysterious Switherbroom Hall, and so much enchantment that the pages practically crackle with it, Everyday Magic is action-packed and bursting with fun -- SINÉAD O'HART, author of THE STAR-SPUN WEB
Everyday Magic is an easy and enjoyable read with lots of creative magical imaginings, vibrant characters and just the right amount of suspense to keep the pages turning quickly * * Independent, Children's Book of the Week * *
Everything you'd expect from Jess Kidd, with an especially naughty twinkle in its eye! I loved it -- EMMA CARROLL, author of THE SOMERSET TSUNAMI
A hugely entertaining book that will enchant and delight younger readers . . . Abounds with joyously madcap characters: familiars, ghosts, imps, witches. But underlying the plentiful fun and giggles is a story that centres on the power of friendship . . . Even with the richness of the world Jess Kidd has created, Everyday Magic is an effortless and charming read * * Armadillo Magazine * *
Everyday Magic is a complete adventure. It is filled with joyous moments . . . Fun, energetic and riveting. . . This is a wonderful book, entertaining from the first page to the last * * Whispering Stories * *
ISBN: 9781838850203
Dimensions: 198mm x 129mm x 18mm
Weight: 205g
304 pages
Main