Time on Rock
A Climber's Route into the Mountains
Format:Paperback
Publisher:Canongate Books
Published:2nd Mar '23
£10.99
Available for immediate dispatch.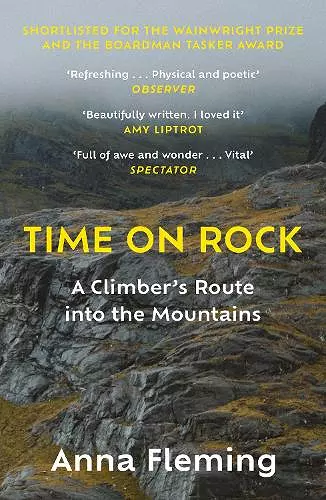 A rock-climber's eye view of the natural world, tracing a geological and personal journey across the British Isles
SHORTLISTED FOR THE WAINWRIGHT PRIZE AND THE BOARDMAN TASKER AWARD FOR MOUNTAIN LITERATURE

With great lyricism, Anna Fleming charts two parallel journeys: learning the craft of traditional rock climbing and the developing appreciation of the natural world it brings her. Through the story of her progress from terrified beginner to confident lead climber, she shows us how placing hand and foot on rock becomes a profound new way into the landscape.

Anna takes us from the gritstone rocks of the Peak District and Yorkshire to the gabbro pinnacles of the Cuillin, the slate of North Wales and the high plateau of the Cairngorms. Each landscape, and each type of rock, brings its own challenges and invites us into the history of a place.
Refreshing . . . she writes beautifully about landscape, and her passion for these ancient formations is physical and poetic * * Observer * *
Fleming has written a wonderfully intimate account of climbing, filled with the rough texture of rocks and the hard-won elation of reaching for the skies * * Guardian * *
Beautifully written. I loved it -- AMY LIPTROT
Echoing and honouring some of the classics of climbing literature, the book is a fine introduction to the genre * * Economist * *
[Anna Fleming]'s fascination with language infuses her descriptions of the textures of various stones and the mountains they form. In this regard, Time on Rock can take its place next to Nan Shepherd's The Living Mountain . . . Fleming's book is full of awe and wonder . . . Vital * * Spectator * *
Engaging . . . Refreshing . . . Anna Fleming immerses herself in the mountains rather than conquering them. Like a climber scanning the crags for the next line, I'm left wanting to read more of her work * * Times Literary Supplement * *
Climbing writing is a crowded field, but thanks to its carefully chiselled prose and bright, flinty intelligence, this absolute gem of a book . . . can hold its own against the most famous names in the pantheon * * Scotsman * *
A climber's joy of insight and adventure -- ALASTAIR McINTOSH
It reminds me of Nan Shepherd, only the kind of Nan Shepherd I could go for a pint with -- HELEN MORT * * author of Black Car Burning * *
Much more than a climbing memoir, Anna Fleming's book is also a fascinating exploration of humanity's timeless relationship with rock . . . both fascinating and beautifully expressed, in a series of glinting, lyrical epiphanies * * Scotsman * *
Short-listed for Wainwright Prize for Nature Writing 2022 (UK)
Short-listed for Boardman Tasker Award for Mountain Literature 2022 (UK)
ISBN: 9781838851798
Dimensions: 198mm x 129mm x 17mm
Weight: 191g
272 pages
Main