The Expectation Effect
How Your Mindset Can Transform Your Life
Format:Paperback
Publisher:Canongate Books
Published:29th Dec '22
£9.89 was £10.99
Available for immediate dispatch.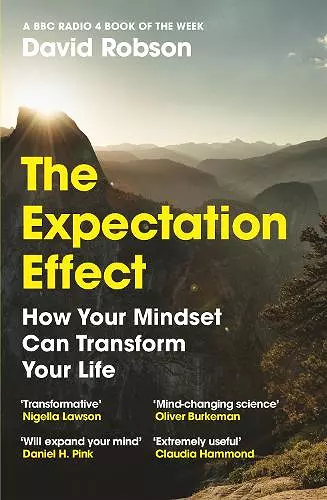 The scientific solution to influencing your life positively, from the award-winning author of The Intelligence Trap.
WINNER OF THE BRITISH PSYCHOLOGICAL SOCIETY AWARD 2022
A SUNDAY TIMES BEST PAPERBACK OF 2023
A BBC RADIO 4 BOOK OF THE WEEK
A FINANCIAL TIMES BEST BOOK OF 2022: HEALTH AND WELLBEING
A WATERSTONES BEST BOOK OF 2022: POPULAR SCIENCE

---

People who believe ageing brings wisdom live longer.
Lucky charms really do improve an athlete's performance.
Taking a placebo, even when you know it is a placebo, can still improve your health.
Welcome to The Expectation Effect.

David Robson takes us on a tour of the cutting-edge research happening right now that suggests our expectations shape our experience. Of course, you can't just think yourself thinner, happier or fitter, but using this book you can reframe many different facets of your life. These easy-to-use skills will help you on your way to becoming the person you want to be, living the life you want to live.
This book is entertaining, eye-opening, extremely useful and best of all, evidence-based
-- CLAUDIA HAMMOND
As David Robson makes plain in this compelling book, the way we think about the world can profoundly shape how we navigate it. Based in science and packed with smart advice,
The Expectation Effect
will expand your mind - and maybe even extend your life -- DANIEL H. PINK
Mind-changing science . . . One of Robson's many strengths as a chronicler of science is to take what might seem familiar and show - to his own evident excitement, as well - just how much deeper the rabbit hole goes . . . Compelling -- OLIVER BURKEMAN * * Guardian * *
This is an utterly riveting and transformative book. You can't afford not to read it! -- NIGELLA LAWSON
A revelatory pop-science book on the idea that it's not so much what happens to us as what we expect to happen that determines our health and wellbeing * * Guardian * *
Intriguing . . . Extraordinary stories of the brain and its power to control the body * * Sunday Times * *
I have not been able to stop thinking about it . . . Jaw-dropping . . . So many studies in the book left me speechless -- PANDORA SYKES * * Doing It Right * *
Already threatening to be book of the year - visionary, original and exciting -- WILL STORR
Interesting . . . Robson marshals a huge range of diverse evidence here and describes it very well. I learned a lot and enjoyed the book hugely -- TIM HARFORD
An intriguing account of the role of expectation (and perception in general) in a wide panorama of experience. Beautifully written, science-based and a gripping read. I loved it! -- DR MITHU STORONI, author of STRESS-P
Winner of British Psychological Society Book Award for Popular Science 2022 (UK)
ISBN: 9781838853303
Dimensions: 198mm x 129mm x 18mm
Weight: 205g
304 pages
Main