Billy No-Mates
How I Realised Men Have a Friendship Problem
Format:Hardback
Publisher:Canongate Books
Published:7th Jul '22
£16.99
Available for immediate dispatch.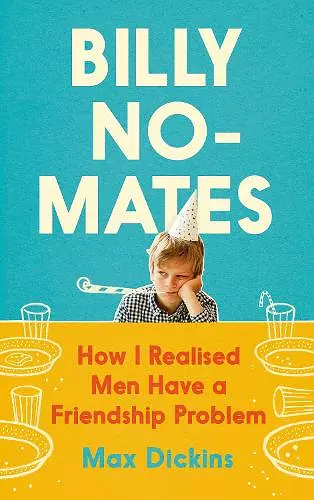 An honest, personal and funny look at male friendships, emotional connection and mental health
'Where have all my friends gone?'

When Max Dickins decided to propose to his girlfriend, he realised there was no one he could call on to be his best man.

He quickly learned that he wasn't the only man struggling with friendships. For decades, countless studies from across the world have confirmed that men have fewer close friends than women - and the problem gets worse the older men get. But what goes wrong? And what can men do about it? Dickins is going to find out.

His funny and charmingly candid search takes him to the doors of world-leading experts. It forces him to examine the friendships he's had over the years, and where they have foundered. And, briefly, it sends him to the website 'Rent A Friend', where he pays someone to hang out with him. But let's not dwell on that.

Join Max as he takes a defibrillator to his social life. As he ultimately discovers that if he wants a Best Man, then he needs to be a better man.
[Dickins] embarked on an investigation that became a funny and engaging book . . . What Dickins learned - and his book amply demonstrates - is that male friendships, like all friendships, require regular maintenance to keep them going -- TIM DOWLING * * Guardian * *
[Max Dickins] couldn't think of anyone to be his best man. It was a realisation that triggered a poignant - and very funny - odyssey * * Daily Mail * *
A funny but deeply uncomfortable read for those men . . . who have allowed their male friendships to wither * * Sunday Times * *
Fascinating -- JEREMY VINE * * BBC Radio 2 * *
On the spot * * Guardian * *
A funny, meaty, informative read where [Max Dickins] uses himself as a hook to guide us through male friendships * * Independent * *
Brilliant . . . one of the most important books I've read this year . . . [it] asks us to put a mirror up to our own friendships -- NIHAL ARTHANAYAKE * * Radio5Live * *
Billy No-Mates should be required reading for all us fellas. I wish I had it 10 years ago. Hilarious, elegantly-written and fascinating. As a life-improving call-to-arms, it's impact on me is hard to overstate. It has - without exaggeration - made me a better friend. And maybe even a better man. As absorbing as it is funny -- PHIL WANG
We need a conversation about why men don't have a mate they can talk to * * The Times * *
Here Max exposes something worrying and fundamental but with such a lightness of touch -- RUFUS HOUND
Max's book is brilliant. Very funny. So well researched and inspiring in lots of ways. Get a copy if you can! -- SPENCER JONES, comedian from LIVE AT THE APOLLO and 8 OUT OF 10 CATS
I've left a copy on my husband's bedside table -- EMMA BARNETT * * Woman's Hour - BBC Radio 4 * *
Poignant, extremely funny and worryingly accurate. Rarely has such a frightening wake-up call been so hilariously put -- RHYS JAMES
Fascinating and very funny. This is such an important subject -- SAM DELANEY * * The Reset * *
I love Max's book so much -- RHIK SAMMADER, author and journalist
I really enjoyed Max's insights around why men are struggling to connect . . . it's a problem that everyone needs to help fix -- CHRIS WILLIAMSON * * Modern Wisdom * *
ISBN: 9781838853518
Dimensions: 220mm x 144mm x 32mm
Weight: 438g
336 pages
Main