None of the Above
Reflections on Life Beyond the Binary
Format:Hardback
Publisher:Canongate Books
Published:4th Aug '22
£16.99
Available for immediate dispatch.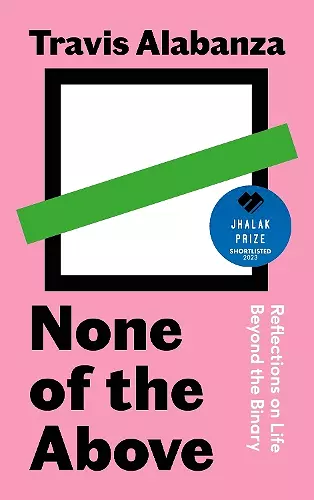 An electric memoir about what it means to live outside the gender boundaries imposed on us by society, from the award-winning trans writer and performer
SHORTLISTED FOR THE JHALAK PRIZE 2023
A WATERSTONES BEST BOOK OF 2022: POLITICS

'A breath of fresh air . . . There's no memoir like it' Independent
'Travis Alabanza writes with such generosity and ease even the most provocative suggestions start to seem obvious . . . Profound and funny' SHON FAYE
'Will challenge, empower and move your soul' Glamour
'Lucid and glorious' YRSA DALEY-WARD
'A gloriously specific, funny and smart body of work' CANDICE CARTY-WILLIAMS
__

'When you are someone that falls outside of categories in so many ways, a lot of things are said to you. And I have had a lot of things said to me.'

In None of the Above, Travis Alabanza examines seven phrases people have directed at them about their gender identity. These phrases have stayed with them over the years. Some are deceptively innocuous, some deliberately loaded or offensive, some celebratory; sentences that have impacted them for better and for worse; sentences that speak to the broader issues raised by a world that insists that gender must be a binary.

Through these seven phrases, which include some of their most transformative experiences as a Black, mixed race, non binary person, Travis Alabanza turns a mirror back on society, giving us reason to question the very framework in which we live and the ways we treat each other.
A breath of fresh air . . . Anyone expecting a hand-holding guidebook will be disappointed by the candour, complexity and subjectivity of None of the Above. There's no memoir like it published in the UK . . . Alabanza's memoir offers welcome nuance to those willing to listen * * Independent * *
Travis Alabanza writes about gender and its possibilities with such generosity and ease even the most provocative suggestions start to seem obvious, despite their challenges to society at large. This anti-memoir, which is at times both profound and funny, will make anyone question the stories we tell about ourselves, how we tell them and even who the telling is for -- SHON FAYE, author of THE TRANSGENDER ISSUE
A change-maker shaping the culture of tomorrow -- BERNARDINE EVARISTO
[Travis Alabanza is] a big voice in multiple intersecting communities . . . This is a book that is supposed to make other people feel seen, heard and help them understand themselves. It's brilliant -- JAMEELA JAMIL
Travis is an incredible thinker, philosopher and human being -- VICKY FEATHERSTONE * * Guardian * *
Flips the well thumbed script that casts oppressed people as lead in the tale of their mistreatment, boldly interrogating the faults of a society that allows such mistreatment to occur . . . Alabanza's lyrical style and theatrical grounding is the book's lifeblood * * Gay Times * *
Lucid and glorious. Truth that goes on and on making room for itself -- YRSA DALEY-WARD
One of those times you are so profoundly grateful that someone has cracked open their head and allowed you to look around at the beautiful, sad and remarkable parts that make them who they are. A gloriously specific, funny and smart body of work -- CANDICE CARTY-WILLIAMS
Travis' words have power. An essential read for everyone -- SAM SMITH
Brilliant . . . This is a book which everyone can learn from, whether you're a cis person who hasn't yet interrogated how your options are shut down or any flavour of trans person pushed towards trying to be less visible but maybe less of yourself for having the options stolen away -- CHRISTINE BURNS
None of The Above is a stunning and powerful memoir, it is so beautifully written and so moving. Travis Alabanza generously shares moments of bravery, honesty, humanity, empathy, courage, wit, wisdom and joy in these pages, I absolutely loved it and will ask everyone to read it -- Salena Godden, author of MRS DEATH MISSES DEATH
Truly transformative, exquisite, thoughtful writing -- MICHAEL CHAKRAVERTY
Absolutely stunning . . . Travis is one of the sharpest writers out there and everyone should read this book -- IONE GAMBLE
[Alabanza] can evoke great emotion in the words they speak . . . Moving * * Independent * *
Potent, profound, sassy and deeply satisfying. A triumph! * * Attitude * *
Will challenge, empower and move your soul * * Glamour * *
Utterly absorbing * * Garbage * *
None of the Above is a well-crafted and considered work of literature . . . [Alabanza's] analysis of how gender is experienced in the world is nuanced, ambiguous and often unexpected in its conclusions. The book is also very funny * * AnOther Magazine * *
Educational, illuminating and hilarious. Not only an empowering and enriching read for those that are treated like outsiders on this confusing and cluttered planet but a book that leaves readers with a far better understanding of issues that are faced * * Buzz Magazine * *
Insightful and thought provoking * * Cosmopolitan * *
Winner of Jhalak Prize 2023 (UK)
ISBN: 9781838854317
Dimensions: 220mm x 144mm x 24mm
Weight: 343g
224 pages
Main