Belonging
Natural histories of place, identity and home
Format:Paperback
Publisher:Canongate Books
Published:3rd Aug '23
£10.99
Available for immediate dispatch.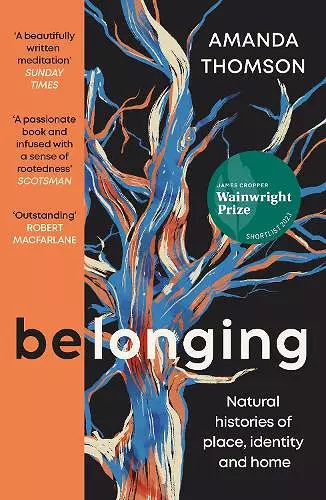 Reflections on family, history, identity, place and nature, from acclaimed writer and artist Amanda Thomson
SHORTLISTED FOR THE WAINWRIGHT PRIZE FOR NATURE WRITING 2023
LONGLISTED FOR THE HIGHLAND BOOK PRIZE 2022

Reflecting on family, identity and nature, belonging is a personal memoir about what it is to have and make a home. It is a love letter to nature, especially the northern landscapes of Scotland and the Scots pinewoods of Abernethy.

Beautifully written and featuring Amanda Thomson's artwork and photography throughout, it explores how place, language and family shape us and make us who we are. It is a book about how we are held in thrall to elements of our past. It speaks to the importance of attention and reflection, and will encourage us all to look and observe and ask questions of ourselves.
Outstanding -- ROBERT MACFARLANE
A beautifully written meditation on rural surroundings and her place within them * * Sunday Times * *
Amanda Thomson's new book manages to carve out a distinctive niche for itself . . . This is a passionate book and infused with a sense of rootedness -- STUART KELLY * * The Scotsman * *
In recent years rural landscapes have turned into battlegrounds, and nature writing has become increasingly polemical. Belonging is a quiet book of questions in a genre full of answers, but it is all the more powerful and beautiful for this -- PATRICK GALBRAITH * * TLS * *
Deservedly shortlisted for the Wainwright Prize; a thoughtful blend of memoir, family history, artistic scrapbook and nature journal in a compelling collage. [ . . . ] There's also an all-encompassing belief in the importance of listening, looking and learning from the world around us * * Observer * *
One of the best things I have read in ages . . . Quiet and beautiful and powerful -- ALYS FOWLER
Thomson writes of the natural in a way I have yet to encounter before. There is no real hoo-haa, no flowery description of which to speak yet somehow, I came away with that ache inside me - that renewed obsession with the world that is only borne of a very particular kind of writing - poetic, loving, raw . . . Like no other -- KERRI Ní DOCHARTAIGH * * Caught by the River * *
I rather enjoyed Amanda's very personal history interweaving ideas of family, place, history and nature. I was left feeling that she is the sort of person that I would love to spend an evening engaged in conversation with -- DAVID LINDO, The Urban Birder
Whether writing about nature, about family, about art, or about identity, Amanda Thomson brings a careful and a thoughtful attention to the page. She shows how the threads of a life - its passions and preoccupations - are intricately entangled, each illuminating and complicating the other -- MALACHY TALLACK
A book that digs deep . . . Vivid * * Herald * *
Short-listed for Wainwright Prize for Nature Writing 2023 (UK)
Long-listed for Highland Book Prize 2022 (UK)
ISBN: 9781838854744
Dimensions: 198mm x 129mm x 19mm
Weight: 215g
320 pages