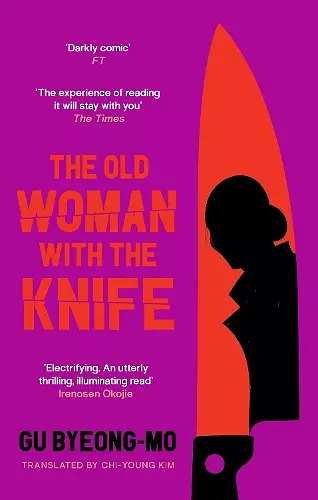 A whip-smart, taut and compelling novel about a 60-something female assassin navigating the vulnerabilities posed by her ageing body, and a meditation on loss and loneliness
She never presumed she herself would live out her natural life, so she wouldn't mind leaving this world through an untimely death.

Hornclaw is a sixty-five-year-old female contract killer who is considering retirement. But while on an assassination job for the 'disease control' company she works for, Hornclaw makes an uncharacteristic error, causing a sequence of events that brings her past well and truly into the present.

Threatened with sabotage by a young male upstart and battling new desires and urges when she least expects them, Hornclaw steels her resolve, demonstrating that no matter their age, the female of the species is always more deadly than the male.
Assassination, Gangnam style. A resonant K-noir treat -- LUKE JENNINGS, author of the KILLING EVE novels
Darkly comic . . . It focuses engagingly and compassionately on the invisibility of ageing citizens * * Financial Times * *
The pull of this novel lies in its incredible story, filled with fascinating, flawed, funny, heartbreaking characters. It's the experience of reading it that will stay with you * * The Times * *
I loved The Old Woman With the Knife, Gu Byeong-mo's pitch-black comic thriller about an elderly female assassin -- PAULA HAWKINS
Electrifying. An utterly thrilling, illuminating read with a radical heroine at its heart. I loved it -- IRENOSEN OKOJIE
The Old Woman with the Knife is unique - a gripping thriller as well as a deeply thoughtful book about our attitudes to ageing and grief. Wonderful stuff -- DOUG JOHNSTONE
Darkly funny, this South Korean novel examines the universal challenge of aging while maintaining societal relevance * * Washington Post * *
The Old Woman With the Knife will sweep you away. This electric novel will have you thinking about its beautiful, melancholy, awe-inspiring force for a long time. The last page will end up slicing your heart. I can't remember who I used to be before I read this book -- YUN KO-EUN, author of THE DISASTER TOURIST
Brutality and tenderness meet unexpectedly in this strikingly original thriller that brings into focus questions of ageing and erasure, legacy and compassion. Boldly imagined and deftly executed, The Old Woman With the Knife is an unforgettable experience -- RACHEL YODER, author of NIGHTBITCH
Fast-moving . . . its kickass approach to narrative convention leaves much of contemporary British fiction feeling positively lily-livered * * Daily Mail * *
ISBN: 9781838856458
Dimensions: 198mm x 129mm x 18mm
Weight: 195g
288 pages
Main