May God Forgive
Format:Hardback
Publisher:Canongate Books
Published:28th Apr '22
£14.99
Available to order, but very limited on stock - if we have issues obtaining a copy, we will let you know.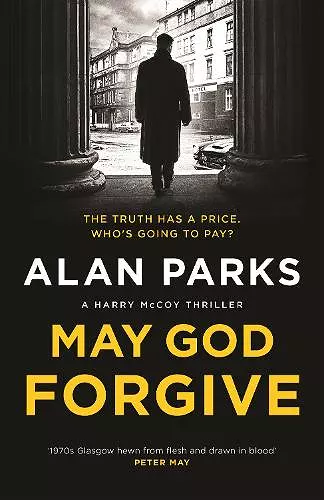 WINNER OF THE McILVANNEY PRIZE 2022
SHORTLISTED FOR THE IAN FLEMING STEEL DAGGER 2023

Glasgow is a city in mourning. An arson attack on a hairdresser's has left five dead. Tempers are frayed and sentiments running high.

When three youths are charged the city goes wild. A crowd gathers outside the courthouse but as the police drive the young men to prison, the van is rammed by a truck, and the men are grabbed and bundled into a car. The next day, the body of one of them is dumped in the city centre. A note has been sent to the newspaper: one down, two to go.

Detective Harry McCoy has twenty-four hours to find the kidnapped boys before they all turn up dead, and it is going to mean taking down some of Glasgow's most powerful people to do it . . .
Harry McCoy is the brightest dark star on the tartan noir scene for some time and in future critics of Scottish crime fiction will surely be referring to the triumvirate of Laidlaw, Rebus and McCoy . . . May God Forgiveis crime fiction which pulls no punches, powerfully told and, at times, heartbreakingly poignant. One of the crime novels of 2022 -- MIKE RIPLEY, author of GETTING AWAY WITH MURDER
The Harry McCoy books by the bold Alan Parks just get better and better. May God Forgive starts like a runaway train and just keeps going. If you're not already reading these books, get onto them now -- LIAM McILVANNEY
Expertly handled and morally ambiguous . . . The skillfully written and complex plot builds to a thrilling and highly unconventional denouement * * Bloody Scotland, McIlvanney Prize Shortlist * *
Once again Alan Parks recreates a world of urban blight and spiritual decay . . . [a] grimly gripping plot . . . a remarkable series that began with Bloody January. The novels, as someone once said, can be read in any order; the important thing is to read them all * * The Times * *
Punchy, compulsive and, at times, as downright nasty as ever * * Herald * *
Compelling . . . Parks is a gifted storyteller * * Scotsman * *
Riveting * * Sunday Post * *
Praise for the Harry McCoy series: One of the great Scottish crime writers . . . Whether it be William McIlvanney, Ian Rankin, Denise Mina or Alan Parks, the way they view - and depict - the world gives great pleasure . . . Like the very best crime novels, The April Dead makes you keenly aware of all the pain out there and (almost) alleviates it * * The Times, Book of the Month * *
Brilliant . . . The April Dead should grace the bookshelves of every crime fan * * Sunday Times Crime Club * *
A blistering plot, unforgettable characters and writing so sharp it's like it's been written with a knife . . . Detective McCoy is a true noir antihero and the perfect guide through the vice and violence of Glasgow's underbelly. Bloody January firmly sets Alan Parks in the same league as Ian Rankin and Louise Welsh -- SARAH PINBOROUGH
Winner of The McIlvanney Prize 2022 (UK)
Short-listed for CWA Ian Fleming Steel Dagger Award 2023 (UK)
Long-listed for Theakston Old Peculier Crime Novel of the Year 2023 (UK)
ISBN: 9781838856748
Dimensions: 240mm x 162mm x 35mm
Weight: 598g
384 pages
Main