Faith, Hope and Carnage
Sunday Times Bestseller
Nick Cave author Seán O'Hagan author
Format:Hardback
Publisher:Canongate Books
Published:20th Sep '22
£22.00
Available to order, but very limited on stock - if we have issues obtaining a copy, we will let you know.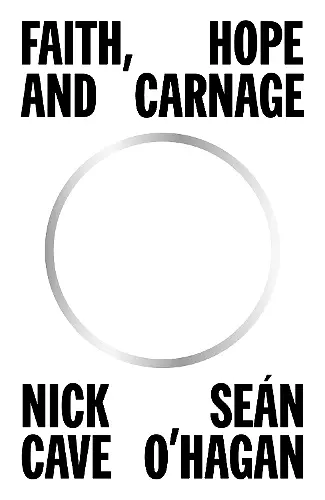 A meditation on faith, art, music, grief and much more - from cultural icon and bestselling author Nick Cave
THE SUNDAY TIMES MUSIC BOOK OF THE YEAR
A TELEGRAPH BEST MUSIC BOOK OF THE YEAR
A NEW STATESMAN BEST BOOK OF THE YEAR

Faith, Hope and Carnage is a book about Nick Cave's inner life.

Created from more than forty hours of intimate conversations with the journalist Seán O'Hagan, this is a profoundly thoughtful exploration, in Cave's own words, of what really drives his life and creativity.

The book examines questions of belief, art, music, freedom, grief and love. It draws candidly on Cave's life, from his early childhood to the present day, his loves, his work ethic and his dramatic transformation in recent years.

Faith, Hope and Carnage offers ladders of hope and inspiration from a true creative visionary.
Illuminating . . . a great deal of beauty in Cave's descriptions of the "strange reckless power" that comes when the worst has happened . . . if it meets a need for Cave, it also feels like a gift to the reader * * Sunday Times * *
An extraordinary, uplifting book . . . This is a book you could dip into if you had no knowledge of Cave at all, just to find someone unafraid to ask all the big questions: what is grief? What is forgiveness? . . . Everyday carnage has brought forth a book of hope and freedom and life * * Daily Telegraph * *
This beautiful book is a lament, a celebration, a howl, a secular prayer, a call to arms, a meditation & an exquisite articulation of the human condition. It will take your breath away -- RACHEL CLARKE * * Observer * *
An absolutely wonderful book. I don't think I've ever read so integrated and searching an engagement with how faith works, how creativity works, and how grief is bound up with both -- ROWAN WILLIAMS
A fascinating read . . . O'Hagan is skilled at drilling down to discover the most interesting conversational nubs, but it is Cave's words that are the star of the show. The man talks like he is writing poetry and the manner in which he describes making music is sure to delight both fans and casual listeners * * Independent * *
Ultimately enriching . . . suffused with love, teeming with ideas * * Guardian * *
Remarkably candid . . . the culmination of a prolonged and moving period of reflection . . . One of Cave's greatest skills is to bring a secular eye to the religious and a religious eye to the secular, the sacred and the profane intertwined * * New Statesman * *
Immensely eloquent and wise . . . a tender guide to the transformative potential of grief * * Telegraph, Best Music Books of 2022 * *
Faith, Hope and Carnage redefines the potential potency of a memoir, creating a bold, brave and brilliant book that deserves to be read, reread and cherished as an illuminating reflection of how we haven't developed the vocabulary to adequately explore death and its aftermath * * Irish Times * *
The most compelling book of the year - raw pain and struggle thought through and explored with rare courage * * New Statesman, Books of the Year * *
ISBN: 9781838857660
Dimensions: 240mm x 162mm x 29mm
Weight: 517g
304 pages
Main