I'm a Joke and So Are You
Reflections on Humour and Humanity
Format:Paperback
Publisher:Atlantic Books
Published:25th May '23
£10.99
Available for immediate dispatch.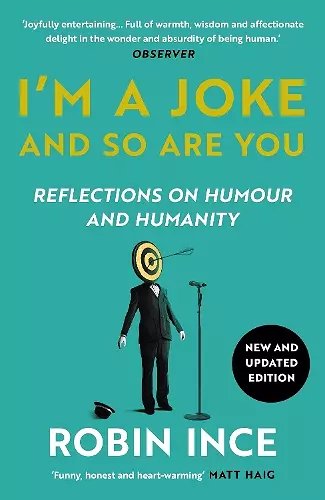 The popular comedian and science presenter blends memoir, wit, and popular science to examine the human condition. Now updated with new material.
'Joyfully entertaining. Full of warmth, wisdom and affectionate delight in the wonder and absurdity of being human.' Observer

'Funny, honest and heart-warming.' Matt Haig

What better way to understand ourselves than through the eyes of comedians - those who professionally examine our quirks on stage? In this touching and witty book, award-winning presenter and comic Robin Ince uses the life of the stand-up as a way of exploring some of the biggest questions we all face. Where does anxiety come from? How do we overcome imposter syndrome? What is the key to creativity? How can we deal with grief?

Informed by personal insights as well as interviews with some of the world's top comedians, neuroscientists and psychologists, this is a hilarious and often moving primer to the mind.
Joyfully entertaining... full of warmth, wisdom and affectionate delight in the wonder and absurdity of being human. * The Observer *
Accessible [and] intriguing... a smart, laugh-out-loud book. * Evening Standard *
Funny, honest and heart-warming. * Matt Haig – author of Reasons to Stay Alive *
Clever, witty and wise. It's very revealing about the psychology of comedians - and the rest of us. * Claudia Hammond – presenter of BBC Radio 4's All in the Mind *
Clever, funny, kind and interesting - just like Robin. * Sara Pascoe, comedian and author of Animal *
Deceptively deep. Invaluable and inspiring. * Stewart Lee, comedian and author of How I Escaped My Certain Fate *
Charming, funny, throbbingly intelligent... A memorable, joyful, gorgeous read -- Deborah Frances-White * Observer *
Moving, funny and interesting! Robin leads us on a fascinating journey through our often quirky minds. * Jo Brand, comedian *
Profound, compassionate, eye-wateringly funny and immensely human. Robin investigates the big questions of the human condition with the razor-sharp insights and sensibilities of one of our very best stand-up comedians. * Alan Moore, writer of V for Vendetta *
One of the UK's most accomplished, versatile comedians. * Guardian *
Moving and insightful... This wide-ranging and well-researched book hides its deceptive depth in an easy to read, witty and conversational style. * Irish Times *
Fascinating... One of the best books ever written about what it means to be a comedian... it's certainly a must-read for anyone interested in the workings of comedy and comedians, but probably for anyone interested in the workings of human beings in general. * Chortle *
Insightful, informed, touching and funny in equal measure. * Richard Wiseman, Professor of Psychology *
Parts of the book are hilarious, parts of it heartbreaking... Easy to devour, and a real pleasure to read. * Chemistry World *
For a comedy book, Robin Ince's I'm a Joke and So Are You doesn't ask the usual question - 'What is wrong with comedians?' - but instead shows the quirks and weird thoughts we all fear are unique to ourselves are not as strange as we think. It's a book about the human mind and one that leaves you feeling a lot less alone in yours. * The Skinny, Book of the Year 2018 *
In addition to being royally entertained I was also educated... * The Psychologist *
ISBN: 9781838959715
Dimensions: 198mm x 129mm x 23mm
Weight: 304g
336 pages