Can't Not Won't
A Story About A Child Who Couldn't Go To School
Format:Paperback
Publisher:Jessica Kingsley Publishers
Published:21st Feb '23
£12.99
Available for immediate dispatch.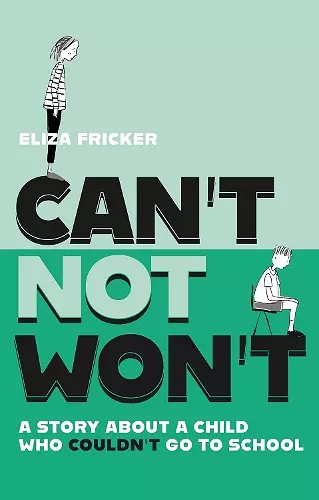 A fully illustrated, empathetic and wry guide to helping and understanding children who are unable to go to school, written by a parent who has been there and gets it
Eliza Fricker gets it. Deceptively simple, endearing, humorous and emotional illustrations following a family managing the early stages of school avoidance are designed to help parents feel seen, and empathetic writing and guidance gives essential advice and tips on navigating school avoidance for parents and professionals alike.
Eliza Fricker gets it. Her compelling, hard-hitting and irreverently humorous illustrations follow a family through the early days of school avoidance, the process of accessing support and the challenges of coping in the meantime. Can't Not Won't illuminates the absurdity and frustrations that often arise when dealing with health, social and educational systems, and will help any parent in the same boat feel seen. This guide acts as a way to communicate these difficult circumstances with others.
Wonderfully relatable, the book also includes written guidance for parents and professionals on what works best when it comes to managing school avoidance.
Knowing many young people who couldn't, not wouldn't, I turned every page of this with a nod. Sadly, a totally true-to-life experience for us and many other families. Such an important book for families but also education and social care professionals - an insight into a slice of life they never imagined. -- Cathy Wassell, CEO of Autistic Girls Network charity
I cannot imagine any family in this situation, who cannot recognise this painful and often harmful, journey. Beautifully conveyed in so few words. The time for change is now! -- Lisa Cherry, Researcher & Consultant in Trauma Informed System Change
Eliza's words and thoughts deeply resonate with me as a parent. Each afterword beautifully articulates what a good school that values autistic pupils would do and importantly addresses how the issue can be carelessly avoided. Any family struggling similarly will undoubtedly draw strength from the shared story and feel less alone. -- Dr. Ruth Moyse, Director AT Autism
ISBN: 9781839975202
Dimensions: 214mm x 138mm x 16mm
Weight: 188g
160 pages
Illustrated edition