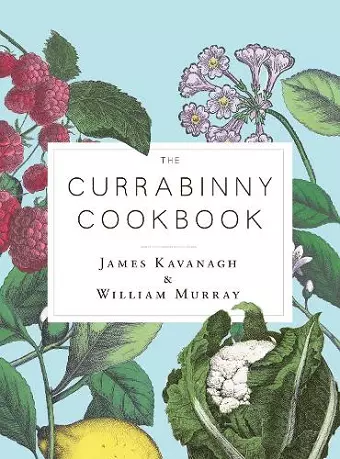 Traditional food sumptuously cooked in an unashamed celebration of flavour.
Cookbook of the Year, Irish Book Awards 2018
Cookbook of the Year, Listowel Food Fair 2018
Irish Times Best Cookbooks 2018
Top Cookbooks 2018, Sunday Times
Best Books of 2018, Sunday Independent
Books of the Year 2018, Irish Independent

'The book exudes a love of food ... there are lots of good things to explore inside' Darina Allen, Irish Examiner

In five years selling at farmers' markets and hosting dining events and pop-ups, James Kavanagh and William Murray's food business, Currabinny, has grown a huge fan-base. James and William celebrate traditional ingredients (butter, cream, sea-salt and the best of fresh and local produce), give them a modern twist, and always produce indulgent delicious dishes.

The Currabinny Cookbook includes their favourite recipes. From breakfast ideas (Macroom Oatmeal with Saturn Peaches, Pomegranate & Raw Honey) to sumptuous suppers (Rustic Rye Galette with Leeks, Fennel and Goats Cheese; Slow Roasted Salmon with Blood Orange, Lemon, Fennel & Dill; Ham in Juniper & Apple Juice with Mustard Parsnip Mash and Buttered Cabbage) and sweet treats (Apple, Rosemary & Buttermilk Cake; Fresh Blueberry Pie with Lemon Curd Cream) this book is a one-stop bible of delicious, comforting and irresistible recipes.

'Has set the foodie world on fire ... it's easy to see why. Easy to make but jam-packed with flavour. We're obsessed' WellFest blog

'A handsome collection of recipes using traditional, seasonal ingredients, given a contemporary slant' Irish Times

'A lovely book of recipes' Sunday Times

'The book is a beauty to behold, packed with the best of Irish seasonal products in recipes given a novel and contemporary touch' Irish Examiner

'It's a blast to come across this sweet book of delicious home cooking' Cookbooks of 2018, John & Sally McKenna, McKennas' Guides

'Their enthusiasm and irreverence leaps from the pages just as much as their flair in the kitchen ... the book is beautiful with delicate illustrations and tempting photographs' Sunday Independent

'A delicious fusion of traditional and modern food' Irish Country Magazine

'The pair have a serious love for food ... accessible for cooks of all levels and the images are absolutely gorgeous' Food & Wine Magazine
'They've thought of everything when it comes to the...
A handsome, well-structured collection of recipes using traditional, seasonal ingredients, given a contemporary slant * Irish Times Magazine *
The prettiest Irish cookbook this autumn * Irish Independent Magazine *
A gorgeous contemporary cookbook - full of traditional recipes with a twist * Irish Examiner *
They've thought of everything when it comes to the cookbook, beautiful images [and] good food * Image Magazine *
Delicious dishes and gorgeous recipes * Stellar *
The book exudes a love of food ... There are lots of good things to explore inside the covers of the Currabinny Cookbook (I love the graphics too) -- Darina Allen * Irish Examiner *
If you open up any page ... it looks delicious but also very easy * Eoghan McDermott *
Traditional dishes with a modern twist ... I could eat their flourless dark chocolate and sea salt cake every day * Sunday Times *
This book has everything required for a filling Christmas * Irish Independent *
A contemporary twist on tradition with a unique cross-generational appeal * Irish Independent, Books of the Year *
Their enthusiasm and irreverence leaps from the pages just as much as their flair in the kitchen ... the book is beautiful with delicate illustrations and tempting photographs -- Best Books of 2018 * Sunday Independent *
The book is a beauty to behold, packed with the best of Irish seasonal products in recipes given a novel and contemporary touch * Irish Examiner *
ISBN: 9781844884148
Dimensions: 239mm x 177mm x 25mm
Weight: 764g
240 pages