The Hidden Fires
A Cairngorms Journey with Nan Shepherd
Format:Hardback
Publisher:Birlinn General
Published:2nd Mar '23
£14.99
Available for immediate dispatch.
This hardback is available in another edition too: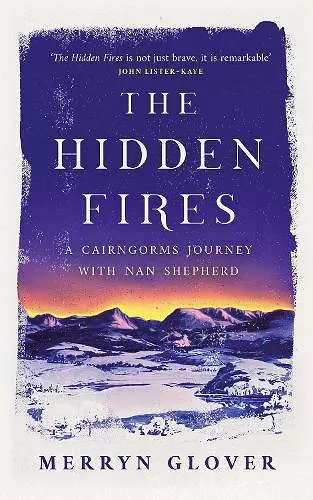 The Hidden Fires: A Cairngorms Journey with Nan Shepherd is a response to Nan Shepherd's The Living Mountain. Drawing from the author's upbringing in the Himalayas and gradual adaptation to Scotland's hills, Merryn Glover contrasts her own Cairngorm experiences with Shepherd's.
Shortlisted for the Boardman Tasker Award for Mountain Literature
Elemental, fierce and full of wonder, the Cairngorm mountains are the high and rocky heart of Scotland. To know them would take forever, to love them demands a kind of courageous surrender.
In The Hidden Fires, Merryn Glover undertakes that challenge with Nan Shepherd as companion and guiding light. Following in the footsteps and contours of The Living Mountain, she explores the same landscapes and themes as Shepherd's seminal work. This is a journey separated by time but unified by space and purpose, a conversation between two women across nearly a century that explores how entering the life of a mountain can illuminate our own.
An Australian who grew up in the Himalayas, her early experiences of the Scottish hills and weather left her cold. But gradually acclimatising and with an approach like Shepherd's, that is more mountain wandering than mountaineering, she discovers the spark that sets the hills and herself on fire. Through Glover's deepening encounter, the wild majesty and iridescence of the Cairngorms is revealed in this beautiful evocation of landscape, place and identity.
'Merryn Glover's The Hidden Fires is not just brave, it is remarkable' – Sir John Lister-Kaye
'Inspired by The Living Mountain, this book will sit comfortably and deservedly on the same shelf as Nan Shepherd's masterpiece'
-- Allan Massie * The Scotsman *
'A dazzling adventure into mountain, place and time. Redolent with the presence of Nan Shepherd, this book will captivate lovers of The Living Mountain'
-- Esther Woolfson
'TheHidden Fires is a book about homecoming and homemaking, of noticing and belonging. It is a joyous celebration of the process of finding yourself'
-- Kerri Andrews, author of Wanderers: A History of Women Walking
'Only rarely does one read a book whose quality of distinction is immediately apparent from the first page; Merryn Glover's The Hidden Fires is not just brave, it is remarkable. Her writing comes at you out of the rock; it recalls some splendid cave painting, telling as much of man as of beast and leaving us in awe of each'
-- Sir John Lister-Kaye, FRSGS, OBE
'A meditation on both Nan Shepherd's classic book and on what the mountains mean to them both...the discoveries she makes as she follows in Shepherd' Cairngorms footsteps have a freshness about them. There's magic and mysticism in the mix too'
-- David Robinson
'a deeply personal account of Glover's love for the landscape' 
-- Alice Hinds * Sunday Post *
'A truly inspiring and beautiful book about the Cairngorm mountains, our natural world, and beyond...a rare beauty, where the place and sense of self is revealed and celebrated in all its blazing glory and wonder'
-- Liz Robinson * LoveReading - Star Book *
'Glover crafts an evocative and immersive slice of travel writing about how the beauty and grandeur of the Cairngorms spoke to her soul'
* Waterstones Online *
'Glover muses on the late legendary poet's thoughts and experiences whilst on her own transformative journey in a pilgrimage that is touching, elemental, brave and deeply affecting'
* Scottish Field *
'An admirable and enjoyable book, well-written, good humoured and informative' 
* The i *
'Evocative writing... brings alive the joys and hidden spirituality that a trip to the Scottish hills can bring'
* Life and Work *
'A very special book...on all accounts, it entertains, educates, and fascinates'
-- Neil Reid * Scottish Mountaineer Magazi
Short-listed for Boardman Tasker Award for Mountain Literature 2023
ISBN: 9781846975752
Dimensions: 198mm x 129mm x 20mm
Weight: 356g
240 pages