Another Way to Split Water
Format: Paperback
Publisher: Birlinn General
Published: 1st Sep '22
This title is currently unavailable, but we can notify you if and when it becomes available again.
This paperback is available in another edition too: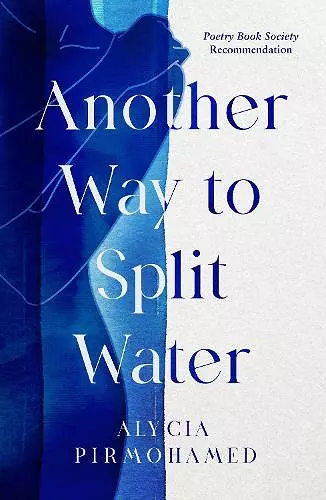 Another Way to Split Water is the debut collection from Edwin Morgan Poetry Award winner Alycia Pirmohamed. This collection employs figurations of the natural world to reflect on themes of language, distance, migration, belonging, faith, grief, and intimacy.
Longlisted for the Jhalak Prize 2023
In Alycia Pirmohamed's debut collection, Another Way to Split Water, a woman's body expands and contracts across the page, fog uncoils at the fringes of a forest, and water in all its forms cascades into metaphors of longing and separation just as often as it signals inheritance, revival, and recuperation. Language unfolds into unforgettable and arresting imagery, offering a map toward self-understanding that is deeply rooted in place.
These poems are a lyrical exploration of how ancestral memory reforms and transforms throughout generations, through stories told and retold, imagined and reimagined. It is a meditation on womanhood, belonging, faith, intimacy, and the natural world.
'Pirmohamed is an immensely gifted poet' – Eduardo C. Corral
'An electric, taut, and glimmering achievement' – Aria Aber
'Pirmohamed writes with a flow which is rarely interrupted. She has a fine ear for the musicality in words and knows exactly where a line should turn'
-- Susan Mansfield * The Scotsman *
'Pirmohamed's achievements speak for themselves ... each poem is crafted, each word perfectly placed, flowing into one another. Dreamlike, brimming with ideas, it's a collection that engulfs you, invites you to read more, to discover new jewels on each read'
-- Heather McDaid * The Skinny *
'In Another Way to Split Water a reader gets to taste arrival before arrival, a form of tenderness that refracts: "an inherited vanishing/through the slit of a dream"'
-- Bhanu Kapil
'Pirmohamed is an immensely gifted poet'
-- Eduardo C. Corral
'An electric, taut, and glimmering achievement'
-- Aria Aber
'You will want to map the navigations of these poems. You will be compelled to orbit their magnetic and inimitable oscillations'
-- Shivanee Ramlochan
'[Another Way to Split Water] inspired me so much. So many things I will think about differently now, from nature to form'
-- Tice Cin, author of Keeping the House
'[Pirmohamed's] language flows in elegant, mysterious ways, telling tales of heritage, history and belonging.'
-- Toni Velikova, Scottish Poetry Library
'[Pirmohamed's] language flows in elegant, mysterious ways, telling tales of heritage, history and belonging'
* Bookseller *
'An extraordinary collection... it's one that I'm very much looking forward to returning to'
* Glass Bookshop Radio *
'Another Way to Split Water is an homage to family, the natural world, and storytelling'
-- Rebecca Mangra * Room Magazine *
'[a] lyrical exploration of stories told and retold, ancestral memories reformed and transformed, and the imagined and reimagined'
-- Hari Alluri * Massy Arts *
'Lyrical and achingly beautiful... Another Way to Split Water is shot through with love, beauty, and deeply tender moments that live on far beyond the page.'
-- Roshni Gallagher * Gutter Magazi
Long-listed for Jhalak Prize 2023
ISBN: 9781846976032
Dimensions: 195mm x 130mm x 10mm
Weight: 130g
96 pages