Another Way to Split Water
Format:Paperback
Publisher:Birlinn General
Published:1st Sep '22
£10.00
Available for immediate dispatch.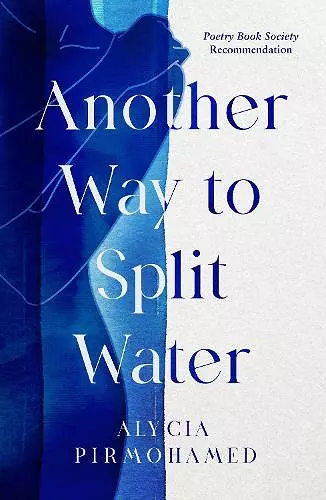 In Alycia Pirmohamed's debut collection, Another Way to Split Water, a woman's body expands and contracts across the page, fog uncoils at the fringes of a forest, and water in all its forms cascades into metaphors of longing and separation just as often as it signals inheritance, revival, and recuperation. Language unfolds into unforgettable and arresting imagery, offering a map toward self-understanding that is deeply rooted in place.
These poems are a lyrical exploration of how ancestral memory reforms and transforms throughout generations, through stories told and retold, imagined and reimagined. It is a meditation on womanhood, belonging, faith, intimacy, and the natural world.
Shortlisted for the Raymond Souster Award 2023 and the Saltire Society Poetry Book of the Year Award 2023
Longlisted for the Jhalak Prize 2023, the Laurel Prize 2023 and the Michael Murphy Memorial Prize 2023
'Pirmohamed writes with a flow which is rarely interrupted. She has a fine ear for the musicality in words and knows exactly where a line should turn'
-- Susan Mansfield * The Scotsman *
'Pirmohamed's achievements speak for themselves ... each poem is crafted, each word perfectly placed, flowing into one another. Dreamlike, brimming with ideas, it's a collection that engulfs you, invites you to read more, to discover new jewels on each read'
-- Heather McDaid * The Skinny *
'In Another Way to Split Water a reader gets to taste arrival before arrival, a form of tenderness that refracts: "an inherited vanishing/through the slit of a dream"'
-- Bhanu Kapil
'Pirmohamed is an immensely gifted poet'
-- Eduardo C. Corral
'An electric, taut, and glimmering achievement'
-- Aria Aber
'You will want to map the navigations of these poems. You will be compelled to orbit their magnetic and inimitable oscillations'
-- Shivanee Ramlochan
'[Another Way to Split Water] inspired me so much. So many things I will think about differently now, from nature to form'
-- Tice Cin, author of Keeping the House
'[Pirmohamed's] language flows in elegant, mysterious ways, telling tales of heritage, history and belonging.'
-- Toni Velikova, Scottish Poetry Library
'An extraordinary collection... it's one that I'm very much looking forward to returning to'
* Glass Bookshop Radio *
'Another Way to Split Water is an homage to family, the natural world, and storytelling'
-- Rebecca Mangra * Room Magazine *
'[a] lyrical exploration of stories told and retold, ancestral memories reformed and transformed, and the imagined and reimagined'
-- Hari Alluri * Massy Arts *
'Lyrical and achingly beautiful... Another Way to Split Water is shot through with love, beauty, and deeply tender moments that live on far beyond the page.'
-- Roshni Gallagher * Gutter Magazine *
'The poems in this book draw you in with their incredibly vivid imagery of wilderness and water'
* Fourteen Poems magazine *
'Alycia Pirmohamed's Another Way to Split Water is affecting, refined, and elusive in its invocations of environmentalism, circumventing cliché through sprezzatura'
* Raymound Souster Award Panel (Shortlisted, 2023) *
'I'm both struck and charmed by the slow progressions of lyric observation and philosophical inquiry throughout... Another Way to Split Water'
-- Rob McLellan
'Pirmohamed's writing evokes tender emotions within readers by bringing a voice to those who search for a sense of identity and belonging in multiple places at the same time ... To read her book is to give form to the unappeased diasporic yearning that we continue to come to terms with'
-- Michelle Lu * Surging Tide Magazine *
'Rich, vulnerable and multi-layered, the poems engage with the subject's relation to water environments in a climactically and politically turbulent world'
* Poetry School *
'A long love letter to not just water that takes a multitude of shapes, but also to grief, prayer, girlhood, wind, womanhood, Allah, elks, longing, and departures... The reader's bonding to these poems, in many moments, is meditative, and almost transcendent' 
* Wasafiri Magazine *
'Her narrative is dynamic, a vibrant act of creating, undoing, transforming, and becoming. As you move through the book, the cyclical images of nature, gentle ebb and flow of rivers, rise and fall of storms, reflections of childhood and ruminations on the future, contribute to an emblematic growth of character and voice' 
* Outcrop Poet
Short-listed for Raymond Souster Award 2023
Short-listed for Saltire Society Scottish Poetry Book of the Year 2023
Long-listed for Jhalak Prize 2023
Long-listed for Laurel Prize 2023
Long-listed for Michael Murphy Memorial Prize 2023
ISBN: 9781846976032
Dimensions: 195mm x 130mm x 10mm
Weight: 130g
96 pages