Hex
Darkland Tales
Format: Paperback
Publisher: Birlinn General
Published: 6th Oct '22
£7.99
Available, normally delivered within 3-6 days.
This paperback is available in another edition too: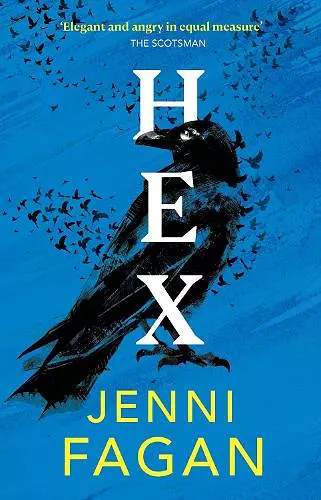 From the multi-award-winning, former Granta Best Young British Novelist, Jenni Fagan tells the story of Geillis Duncan, a teenage girl caught up in the sixteenth century witch trials in the Scottish coastal town of North Berwick.
A powerfully poignant tale of one of the most turbulent moments in Scotland's history: the North Berwick Witch Trials.
IT'S THE 4TH OF DECEMBER 1591.
On this, the last night of her life, in a prison cell several floors below Edinburgh's High Street, convicted witch Geillis Duncan receives a mysterious visitor – Iris, who says she comes from a future where women are still persecuted for who they are and what they believe.
As the hours pass and dawn approaches, Geillis recounts the circumstances of her arrest, brutal torture, confession and trial, while Iris offers support, solace – and the tantalising prospect of escape.
Hex is a visceral depiction of what happens when a society is consumed by fear and superstition, exploring how the terrible force of a king's violent crusade against ordinary women can still be felt, right up to the present day.
'This series has already produced two works of note and distinction. It raises the question – if a country cannot re-tell its history, will it be stuck forever in aspic and condemned to be nothing more than a shortbread tin illustration? Hex and Rizzio are showing the way towards a reckoning, and about time too' – Stuart Kelly, Scotland on Sunday
'A rage-fuelled thunderbolt… but this punchy, painful novel is no sermon: Fagan cultivates the occult energy swirling around her themes, even as she explodes the myths that enables male violence'
* Daily Mail *
'Exceptional… I'm still reeling from it, it is devastating…"the purest light attracts the most impenetrable darkness" – that line just resonates and resonates…  a stunning book, thank you for this'
* BBC Radio Scotland *
'This series has already produced two works of note and distinction. It raises the question – if a country cannot re-tell its history, will it be stuck forever in aspic and condemned to be nothing more than a shortbread tin illustration? Hex and Rizzio are showing the way towards a reckoning, and about time too'
-- Stuart Kelly * Scotland on Sunday *
'Hex, for a book about such trauma and agony, is a crisp, clear book… elegant and angry in equal measure'
* The Scotsman *
'Hex is a powerful, fictional retelling of the North Berwick witch trials from Jenni Fagan'
-- Lynsey May * The List *
'Fagan's writing is wild and exciting… [she] stirs up a powerful brew with her magical fable'
-- Dani Garavelli * Herald *
'One of the most stunning literary experiences I've had in years'
-- Irvine Welsh
'[an] exhilarating, humbling homage to Geillis Duncan'
-- Sam Baker
'[a] soulful, tender, powerfully moving retelling of the last days of Geillis Duncan'
-- Nick Barley, Director of the Edinburgh International Book Festival and trustee of the Booker Prize Foundation
'Unsurprisingly brilliant, a feminist warcry from one century to another as we spend the night with a young woman about to be slowly hanged as a witch. Beautiful, moving writing'
-- Sarah Pinborough, Sunday Times #1 and New York Times Bestselling author of Behind Her Eyes
'A powerful and compelling short novel'
* Undiscovered Scotland *
'Hex is stunning, so powerful… Beautiful work!'
-- Salena Godden, author of Mrs Death Misses Death
'I devoured Hex and absolutely adored it. I mean, what a genuinely astonishing novel; gorgeous, heart-breaking'
* Waterstones, West End Edinburgh *
'the magical and the realism are always in perfect balance… Hex is both a timely and timeless publication'
-- Alistair Braidwood * The Skinny *
'A perfect encapsulation of everything I love about Jenni's work - brilliantly real characters, shot through with feminist anger, word choice to make you shiver, & that knack of taking the road least expected'
-- Kirstin Innes, author of Scabby Queen
'Powerfully conjures a meeting across the centuries between Geillis Duncan, a young girl on the night before her execution for witchcraft in 1591, and Iris, a contemporary witch'
-- Sally McDonald * Sunday Post *
'this book is magnificent. I cannot think of a voice, or imagination, like Jenni Fagan's'
-- Terri White (journalist and author)
'Really felt Jenni Fagan's anger coming off the page… brilliant'
* Waterstones Leicester *
'An 'i' Recommended Read'
* i'News *
'A fascinating and powerful book about the history and traumas of Scottish women'
* Mainstreet Trading *
'It's an exemplar of the form, a book that tells its story across space and time from a writer who is fully engaged with both subject and style'
* Snack Magazine,10 Best Scottish Books of 2022 *
'Stunning book. Read this in one sitting on a Sunday morning. It's 100 pages make such an impact. Sublime writing'
* GoodReads FIVE STAR REVIEW *
'This novel sent chills right through my bones'
* Lizzy's Literary Life, Blog *
'A poignant new perspective on Scotland's notorious North Berwick witch trials'
* Product Magazine *
'Hex is fantastic!'
-- Denise Mina
'Packs a mighty punch and has lots of important messages about misogyny, prejudice, abuse and inaction which was rife in the sixteenth century and still permeates modern lives'
* Linger Longer with Books *
'Hex is excellent and everyone should read it'
* Kamila Shamsie *
'Visceral, damning, shimmering with literal prowess and prose all under the heady guide of something much darker, this tremendous read shall stay with you forever'
-- Daniel Bassett, Waterstones Bookseller
'Small but mighty … the mere fact that this tale is based on real events gives the story a powerful, disturbing authenticity'
* Scottish Field *
'Fagan's hypnotic narrative reveals the might of language which can bring its own kind of justice in one single sentence'
-- Loretta Mulholland * Dundee Courier, Book of the Week 10/10 *
'Written in lucid prose, no word is wasted in this taut story. Hex is an extraordinary prose poem to the brutality, abuse, and repression of women through centuries to the present'
* Historical Novel Society *
'I love the idea — drinking in historical fiction as a series of shots'
-- Katherine Faulkner, author of Greenwich Park and The Sunday Times' head of news projects
'Fagan's prose could not be more suited to her subject – at times stripped back, at others almost incantatory'
-- Grant Rintoul
'Hex is an exceptional example of how to tell a story'
-- Alistair Braidwood * SNACK Mag, EIBF Preview *
'Her work gives glorious voice to ancient Edinburgh tenements, to the Devil's daughter, to the care-home kids, to witches, to all us pariahs and cowgirls'
-- Michael Pedersen * Electric Literature *
'Witchcraft and feminism meet in one short novel that leaves a powerful impact on the reader'
* Faber Blog, Indie Bookshop Recommendatio
ISBN: 9781846976223
Dimensions: 195mm x 130mm x 5mm
Weight: 114g
112 pages
New in Paperback