Columba's Bones
Darkland Tales
Format:Hardback
Publisher:Birlinn General
Published:5th Oct '23
£10.00
Available for immediate dispatch.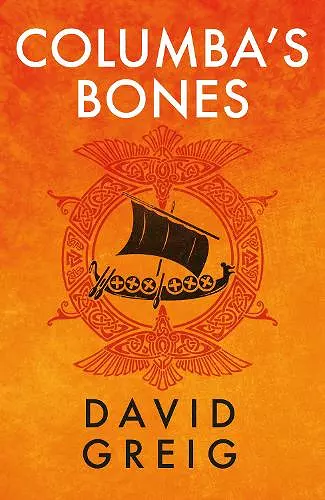 The Isle of Iona, 825.
In a bloody, brutal raid, Abbot Blathmac is slain on the steps of his monastery for refusing to give away the location of the sacred relics of St Columba, the missionary who first brought Christianity to Scotland. Following a night of rampage and mayhem, one Viking wakes up the next morning to find himself alone, hungover, and abandoned by his crew mates. He can't swim, there are no boats, and the only surviving monk on the island has taken his sword. With only his wits, he must survive long enough not only to rejoin his Viking comrades, but also to find the location of the elusive relics that brought him here in the first place.
Rooted in the real history of Iona and its early monks, Columba's Bones is an utterly unique and thrilling read, exploring the clash of early Christianity and paganism, and expanding into a sharp, witty meditation on philosophy, redemption, shame, violence, love, transcendence and reality.
'Stupendously earthy, laugh out loud funny in places, visceral writing' - Sally Magnusson
'As violent as a Tarantino movie… echoes of the Norse Sagas in all their ferocious and poetic intensity while at the same time, he captures the spirit of Celtic Christianity and the beauties of the Celtic Church. The narrative is both light and rapid... evokes memories of that great Orcadian writer George Mackay Brown'
-- Allan Massie, * The Scotsman *
'[Greig] has succeeded brilliantly. What an amazing first novel'
* Ullapool News *
'One of the most interesting and adventurous British dramatists of his generation'
* Daily Telegraph *
 'transforms the events surrounding early Christianity's encounter with paganism into a witty thriller'
* The Bookseller *
'Stupendously earthy, laugh out loud funny in places, visceral writing'
-- Sally Magnusson
'Was it enjoyable? Was it funny? Did it make me feel stuff? Absolutely, riotously, and with ease. I laughed, I cried, I pondered... I also wanted to learn'
-- Alex Woolston-Rudolph * Scottish Literature Society of the University of Glasgow *
'This is a jewel of a book, sparkling like the seas around the island. Each word vivifies the island, its natural life, and the inner lives of its inhabitants. Greig's writing is fashionably free of speech marks, speech and thought merging, as the physical and spiritual merge on this Holy Island'
* Historical Novel Society *
'With books by Denise Mina, Alan Warner and Jenni Fagan already published, Polygon's Darkland Tales series is already enjoying a reputation for excellence that Columba's Bones will only enhance'
-- David Robinson * Books from Scotland *
'The best novel I've read in some considerable time. They say that good things come in small packages and if you want a perfect demonstration of that, then look no further... a highly accomplished and polished novel that displays a real sureness of touch on the part of its author... This really is a remarkable book'
* Undiscovered Scotland *
'Thrilling events in an authentic setting with visually stunning scenes make Greig's debut novel – based on his own 2022 walking adventure – unlikely to be his last'
* Inverness Courier, Star Book *
'Read Columba's Bones by David Greig in 1 sitting and hope he writes more novels and turns this into a play, great characters and story re an old Viking, middle age woman and young monk that crafts bawdy humour with clash of beliefs in 9th century Scotland. Have always wanted to visit Iona, now I must'
-- Angela Constance, Cabinet Secretary for Justice and Home affairs
'a well-researched, engaging fiction which contemplates a fascinating culture clash between Nordic paganism and Christianity, both of which boast devout adherents.
-- Mark Brown * The National *
'a surprisingly humorous take on a Viking massacre on the island [of Iona], the birthplace of Christianity in Scotland... spans themes of love, death and faith while unpacking the brutality of the mythologised Norsemen with comedy and romance' 
-- Alison Campsie * Scotland on Sunday *
'Beautifully written and drawn, its characters are credible and its plot is clever'
-- Roger Hutchinson * West Highland Free Press *
'A brilliantly funny and visceral first novel... David Greig is, of course, widely acknowledged as a long term major player in the world of Scottish drama. In this, his first book, his dramatic ear for dialogue and characterisation is quite clear, but he also writes beautiful descriptive prose'
-- Cameron Wylie, author of Is There a Pigeon in the Room?
'A rollicking read that afficianados of Nigel Tranter will gobble up... Highly recommended' 
* Scottish Fie
ISBN: 9781846976261
Dimensions: 198mm x 129mm x 18mm
Weight: 271g
184 pages