Charlotte Says
Format:Paperback
Publisher:Little Tiger Press Group
Published:7th Sep '17
£7.99
Available for immediate dispatch.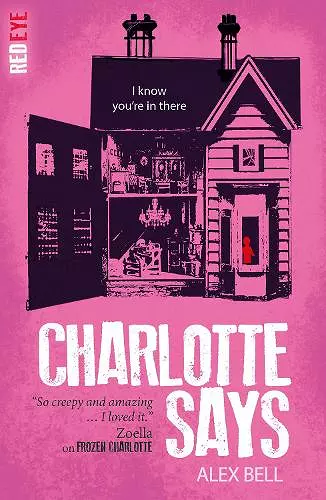 The much-anticipated prequel to the bestselling FROZEN CHARLOTTE, a Zoella Book Club title in Autumn 2016.
Following the death of her mother in a terrible fire, Jemima flees to the remote Isle of Skye, to take up a job at a school for girls. There she finds herself tormented by the mystery of what really happened that night.
Then Jemima receives a box of Frozen Charlotte dolls from a mystery sender and she begins to remember – a séance with the dolls, a violent argument with her step-father and the inferno that destroyed their home. And when it seems that the dolls are triggering a series of accidents at the school, Jemima realizes she must stop the demonic spirits possessing the dolls – whatever it takes.
I love origin stories but horror origin stories? I was sold from the get go … this book is probably scarier than any book I've ever read... Give it a read, if you dare. -- Zoe Collins * author of No Safer Place *
You don't need to have read Frozen Charlotte to enjoy this book (though I definitely recommend you read both!) This is a chilling prequel that captures the menace and dread of the first book while giving you an insight of how it all started. This is the perfect eerie read that you'll want to stay up all night to finish. -- Maia and a Little Moore
This second installment sees us back in 1910, so that we can investigate the origin story of these murderous dolls. And it's as brilliant at stomach-churning high horror as the first. Perhaps it's even better… Definitely one for fans of horror everywhere. -- Jill Murphy * The Bookbag *
Creepy dolls, ghost children and needles in eyeballs, what else would you want from a horror novel? -- Bernadette Donnelly * Crack Your Spines *
Both 'Charlotte' books hit the nail on the dead, having an excellent balance of fast placed plot, the supernatural, characters you care about, and nasty little dolls… -- Ginger Nuts of Horror
[…] even gorier and scarier than the first novel […] the harshness of [the historical setting] made this ever more horrific. Wonderful work yet again from Alex Bell! -- Miss Fay Myers * NetGalley *
This is horror. Torn between needing to know and fearing for the characters, I read this fast… Compulsive. -- Dawn Woods * NetGalley *
I devoured this book in one day. It was so much fun… I want to get a crate of Frozen Charlottes, a box of these books and give one to everyone I know at Hallowe'en -- C Smyth * NetGalley *
This is real horror writing for me – it doesn't rely on blood and gore, but on an increasing sense of unease and the sort of sinister happenings that make you want to check over your shoulder and keep the light on… Such clever writing … and definitely not just for the YA audience. -- Becky Hawkins * NetGalley *
ISBN: 9781847158406
Dimensions: unknown
Weight: unknown
352 pages