Adam Dant's Political Maps
Format:Hardback
Publisher:Batsford Ltd
Published:30th Jun '22
£30.00
Available to order, but very limited on stock - if we have issues obtaining a copy, we will let you know.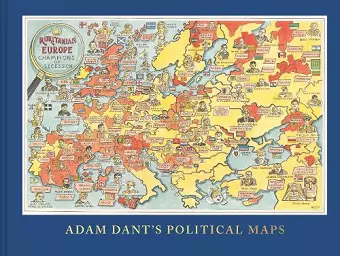 A timely, large-format collection of fine art maps from Adam Dant, looking at the fractious world of politics.
Adam Dant's Political Maps is an all-new collection of this highly regarded artist's intricate, absorbing and beautiful maps, this time focused on the world of politics. Informed by his experiences as the official artist of the UK general election in 2015, these glorious works of art are amusing and subversive, hugely imaginative and packed with eye-catching detail.
Themes range across the spectrum of British and global politics past and present, bringing in recent political upheavals ('Stop That Brexit') and current issues such as the controversy around certain statues ('Iconoclastic London'), alongside more timeless subjects like a map of US presidents ('Presidents of the United States of America'), and, of course, the pandemic ('Viral London'). Other highlights include:
·Johnson's London: Notorious places associated with Prime Minister Boris Johnson, including all the houses he has ever lived in
·New York Tawk: A visualisation of New York City through a century of its slang
·British Left Groups: A fascinating history of left-wing parties and pressure groups through the decades
·Quitting Europe: Brexit encapsulated in exotic European cigarette packets from the artist's youth
Witty, acerbic and intelligent, this unique collection will delight history enthusiasts, art lovers and politics buffs of all persuasions, and its large format guarantees hours of happy browsing of the densely packed detail Adam Dant brings to all his images.
'Highly entertaining … long may Dant's sharp eye, brain and pen flourish' The Art Newspaper Maev Kennedy 2022 'A political tour de force … there is much comfort and joy to be found in art, and in particular the subversive and creative humour of Adam Dant'  The House Douglas Champan 2022 'An absolute must-purchase for anyone who draws a mote of joy from gazing at artistic maps... which is to say, everybody' Londonist Matt Brown 2022 'Majestic and colourful' TLS (Times Literary Supplement) 2022 'A very Shoreditch sort of a book, steeped in a sense of place and history. But don't throw away your atlas … just yet, for it is primarily a guide to navigation for the mind' The World of Interiors Stephen Patience
ISBN: 9781849946919
Dimensions: unknown
Weight: unknown
128 pages