Ranchland
Wagonhound
Format:Hardback
Publisher:Images Publishing Group Pty Ltd
Published:1st Dec '22
£70.00
Available to order, but very limited on stock - if we have issues obtaining a copy, we will let you know.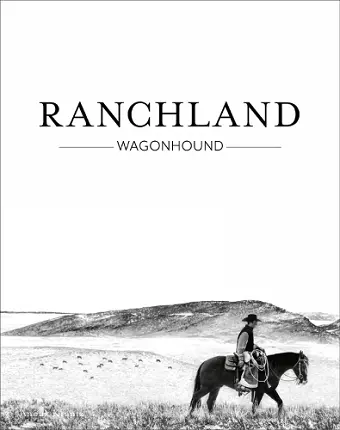 "You'll be in awe of the work of the American rancher and wildlife alike." — Fox News
"... Krantz delivers a true sense of not only the size and scope of Art and Catherine Nicholas' Wagonhound Ranch, but also the deep sense of stewardship the Nicholas family and their crew bring to ranching every day." — Western Horseman
"...Anouk's photographs tell a visual story of the rancher and his relationship with the land." — The Eye of Photography
"A stunning photographic collection that celebrates the reality of ranch life." — Big Sky Journal
Wagonhound is a historic working ranch spanning over 300,000 acres in Wyoming, where the elevation ranges from 5,000 feet to 9,000 feet; where talented, strong, and steady quarter horses supplied by the ranch-owned remuda are required to help the cowboys manage the herds in a spectacularly rugged terrain. Catherine and Art Nicholas, who took the reins of the historic ranch in 1999, take the stewardship of the land very seriously — their vision has been to honour tradition, preserve the land, which is steeped in history, and return it to a pristine condition.
In Ranchland: Wagonhound, Anouk Krantz's beautiful photography reveals the daily and seasonal rhythms of the ranch and the daily lives of its men and women cowboys, whose long hard days — starting in the dark and finishing in the dark — involve everything from cattle driving to branding to training the best quarter horses in the country and more. Set in a stunning large-format book, these photographs and the stories offer an inspiring new perspective into today's cowboy/ranching culture and land stewardship of the American West. 
"You'll be in awe of the work of the American rancher and wildlife alike." - Fox News
"...Anouk's photographs tell a visual story of the rancher and his relationship with the land." - The Eye of Photography
"A stunning photographic collection that celebrates the reality of ranch life." - Big Sky Journal
"... Krantz delivers a true sense of not only the size and scope of Art and Catherine Nicholas' Wagonhound Ranch, but also the deep sense of stewardship the Nicholas family and their crew bring to ranching everyday." - Western Horseman
Watch an interview with Anouk Masson Krantz on Rural America Live: https://vimeo.com/774435607/e8c9780fc6 - Rural America Live
"Even city slickers can have a bit of cowboy in their bones—a yearning for open spaces, rugged country, and fierce independence. So, whether your dad's a cowboy at heart, or a real cowboy himself, chances are he'll appreciate the stories and images found in the Ranchland: Wagonhound coffee table book by Anouk Masson Krantz." - Prevention
"Krantz's collection of dramatic black-and-white images convey daily life on the ranch, including the changing of the seasons and the work of cowboys and cowgirls." - Professional Photographer Magazine
"... rare perspective large-format art book is dedicated to the American rancher, the spirit of the West and the contemporary challenges to conserve the land." - Jackson Hole News & Guide
Interview with Anouk Masson Krantz: "If you're a fan of Westerns, shows like Yellowstone or any Taylor Sheridan series, then you're going to love our next guest. In fact, she's Taylor Sheridan's favourite cowboy photographer." - Fox 5 Las Vegas
"French photographer Anouk Masson Krantz takes us on a deep dive into the private world of Wagonhound in Wyoming...Her stunning photography showcases cowboy ranching culture and land stewardship in the American West and highlights the daily beauty and seasonal rhythms of life on the ranch." - Sunset Mag
"The attention to detail in Anouk's images offers a rare insight into the modern cowboy and ranching culture from an outsider's viewpoint." - Digital Photographer magazine
"Anouk's photographs tell a visual story of the rancher and his relationship with the land." - Digital Camera World
"Anouk's Ranchland wins best art/photography book for The National Cowboy & Western Heritage Museum awards!" - National Cowboy Museum
Interview with photographer and author Anouk Masson Krantz; article and podcast - The Candid Frame podcast
Featured on Marijka Dam's Instagram story - Instagram: Marijka Dam
"Photographer Anouk Krantz shares her journey of life-changing adventures that led her to Wagonhound in Wyoming, where dreams really do come true." - Horse and Rider UK
"Ranchland: Wagonhound by Anouk Krantz celebrates America's ranches, like this one in Wyoming. The book, which honours the traditions of the American West and pays homage to those who conserve the land for future generations, won the best photography book of 2023 at the Western Heritage Awards." - The Times
"Ranchland: Wagonhound is a photographic deep dive into the private world of Wagonhound- one of America's largest historic ranches, which spans over 300,000 acres of spectacular and rugged Wyoming Terrain. The beautiful photography reveals the daily and seasonal rhythms of the ranch and the daily lives of its men and women cowboys." (Award at 49:45 on link video) - Western Heritage Awards
"In the new book Ranchland the toil, the dirt and the search for boundless freedom are depicted. What says the silent male images about the man and the USA in 2023?" [Google translate from Swedish] - Plaza Magazine
"With her camera, she now captures the essence of the cowboy life, a life situated somewhere between myth and hard work." - Ramp
"Life on Wyoming's Wagonhound, as captured in an award-winning recent book, has chnaged surprisingly little since the days of the Old West." - Wild West Magazine
"French photographer ANOUK MASSON KRANTZ has accomplished something that only few people have achieved before: she drove through the American West, immersed herself in the world of the cowboy, and became part of their culture. As her photographs so beautifully show." - Rampstyle
"Anouk's exquisite fine art photography offers a rare window into the cowboy ranching culture and land stewardship of his historic ranch and the breathtaking American West." - Equestrian Living
"Her images tell stories of people humbled by nature, animals, and a life beyond the tyranny of social media likes." - American Trails
"Life on Wyoming's Wagonhound, as captured in an award-winning recent book, has changed surprisingly little since the days of the Old West." - Wild West Online
"In the beginning, she had to work hard to earn the trust of the cowboys she photographed — and logged more than 125,000 miles on the road, solo, to meet them on their turf." - Cowboys & Indians
ISBN: 9781864709124
Dimensions: unknown
Weight: 3181g
304 pages