Grandville Force Majeure
Format:Hardback
Publisher:Vintage Publishing
Published:16th Nov '17
£18.99
Available to order, but very limited on stock - if we have issues obtaining a copy, we will let you know.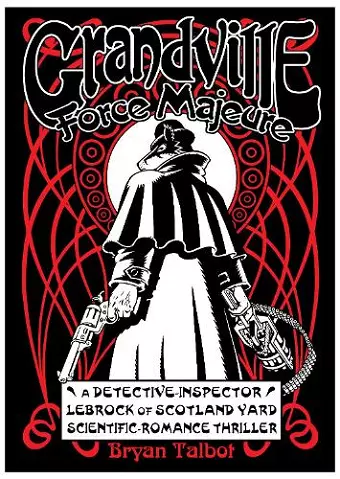 The Badger is back!
In the middle of a gang war, wanted for murder, truly alone and outside the law, Detective Inspector LeBrock is on the run from both the police and gangster assassins, the victim of a diabolical scheme to annihilate himself and everyone he holds dear, engineered by mastermind crime lord Tiberius Koenig, one of the most despicable villains in the history of detective fiction.

A fiendishly ingenious story of love, tenacity, treachery and tragedy, this fifth, final and longest stand-alone volume of the Eisner and Hugo Award-nominated Grandville series by master storyteller and graphic novel pioneer Bryan Talbot is a veritable rollercoaster of a detective thriller, featuring Grandville's trademark high-octane excitement, humour and deduction on a Holmesian scale as we finally meet LeBrock's mentor, Stamford Hawksmoor, and discover LeBrock's untold backstory. Fan-favourite characters Detective Sergeant Roderick Ratzi and LeBrock's vivacious fiancée, Parisian prostitute Billie are joined by a new badger in town! Enter Tasso, an Italian badger who's bigger, meaner and uglier than LeBrock – but is he a force for good or evil? A battle royale ensues as LeBrock fights against truly outrageous odds. How can he possibly survive?

Prepare to be royally badgered!
I have greatly enjoyed the Grandville books. I think they're superbly designed, beautifully conceived, admirably written – everything about them is terrific. They really show what the form can do. A graphic novel built on the solid foundation of a strong story. -- Philip Pullman
The latest and last in the sequence Grandville Force Majeure is an epic of anthropomorphised sex and violence featuring a huge cast of badgers (including our hero Detective Inspector LeBrock), lizards, rats and even a Dalmation. It's a heady mix of Holmesian ratiocination and SF steampunk technology straight out of a Jules Verne novel, lashed to a story that takes in gang violence, freemasons and secret identities. And it's so slick. Talbot's great facility as a comic artist gives his narrative extra oomph. The result is fast-moving and hugely entertaining. -- Teddy Jamieson * Herald Scotland *
Exceeds the standards… Of all in its league. * Blouin Artinfo *
ISBN: 9781910702246
Dimensions: 300mm x 220mm x 22mm
Weight: 1193g
176 pages