Small Fires
An Epic in the Kitchen
Format:Hardback
Publisher:Pushkin Press
Published:25th Aug '22
£14.99
Available for immediate dispatch.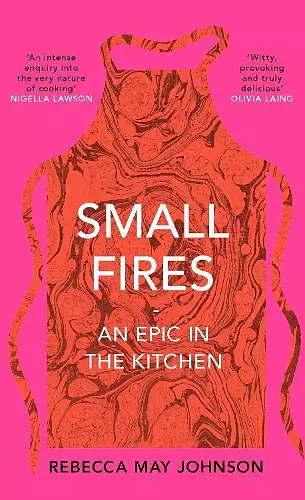 Cooking is thinking! The spatter of sauce in a pan, a cook's subtle deviation from a recipe, the careful labour of cooking for loved ones: these are not often the subjects of critical enquiry. Cooking, we are told, has nothing to do with serious thought; the path to intellectual fulfilment leads directly out of the kitchen. In this electrifying, innovative memoir, Rebecca May Johnson rewrites the kitchen as a vital source of knowledge and revelation. Drawing on insights from ten years spent thinking through cooking, she explores the radical openness of the recipe text, the liberating constraint of apron strings and the transformative intimacies of shared meals. Playfully dissolving the boundaries between abstract intellect and bodily pleasure, domesticity and politics, Johnson awakens us to the richness of cooking as a means of experiencing the self and the world - and to the revolutionary potential of the small fires burning in every kitchen.
"Small Fires is… brave enough to hurt feelings, and delicious enough for no one to care." —The New York Times

"In Small Fires, Johnson explores how the food we make and the ways we make it—and then the stories we tell about making it—shape who we are. . . . Mixing deeply personal anecdotes with more complex theory, Small Fires is at once relatable and mind-expanding." —Vogue

"In this slim, spicy, genre-defining work, Rebecca May Johnson spatchcocks the division between intellectual and domestic labor... Blending humor and academic citation, poetic lineation, and personal reverie, this inquiry into the nature of cooking is as delightfully messy as the process itself—some serious food for thought." —Oprah Daily

"A gorgeous book…I love to read about the body and I love to read about food, and this tender little book allowed me to do both." — Saba Sams, The Guardian

"Small Fires is a manifesto for reclaiming cooking as an intellectual... a rewarding book that stayed with me — and, like all brilliant food writing, it made me think twice about what I choose to eat and who I eat it with... a brave, honest book." —Sunday Times

"Rich in pleasure and revelation." — Observer
 
"Small Fires possesses an intellectual fleet footedness and exuberance akin to the writing of Deborah Levy or Rebecca Solnit, as sentences skip between mischievous punning and impassioned agitation... the enthusiasm of the writing here is generous, embracing and emboldening." —i news
 
"I recommend the book for its insightful, radical, beautiful essays – and for all the kitchen dancing." — The Guardian

"An electrifying read." —Olive magazine

"Revolutionary… this is a book that wakes up the reader's senses and delivers critical arguments "spattered" in oil, like the pages of a much-used recipe book, making them palatable." —Times Literary Supplement

"Just incredible... a real revelation." —Sky Arts Book Club
 
"An electrifying, genre-breaking mixture of food writing, memoir and philosophy, asking profound questions about desire, community, appetite and the body" — Rebecca Tamás, Observer

"An intense, thought-provoking enquiry into the very nature of cooking, which stayed with me long after I finished it." — Nigella Lawson
 
"One of the most original food books I've ever read, at once intelligent and sensuous, witty, provoking and truly delicious, a radical feast of flavours and ideas." —Olivia Laing
 
"Small Fires is a smart, creative and thoughtful book: it challenges us to think more about how and why we cook, and confounds our expectations of what food writing can be." —Ruby Tandoh
 
"Liberating... a new way to write about food." — Jonathan Nunn
 
"I loved this genre-busting book which made me look differently at every recipe that I cook. Through a mix of memoir and philosophy, Rebecca May Johnson shows that cooking can be a wild kind of magic." —Bee Wilson
 
"Destined to become essential reading for anyone interested in writing about food... Bold, beautiful, daring... It is a book that changed me." — Rachel Roddy
 
"Small Fires is a tender, electric, intimately transformative work. Rebecca May Johnson has written her own glowing epic, reshaping the notion of the recipe as a text alive with possibility. In her hands, recipes become memory objects, acts of translation, expansive spaces full of feeling." — Nina Mingya Powles, author of Small Bodies of Water
 
"Rebecca May Johnson's scintillating soliloquy on cooking adds a whole new dimension to food-writing, and pulls the tablecloth out from beneath a lot of stale (and often male) assumptions about the nature and value of domestic labour. I'll never think of a 'recipe' in the same way again." —Fuchsia Dunlop
 
"Small Fires is like nothing else I have read. Truly unique, truly unusual, it weaves together cooking, dancing, and the Odyssey in a riveting, and moving exploration of what counts as knowledge. It had me rethinking what a recipe is, what cooking is, what is 'I' and what is 'you'. It is a book that asks profound and serious questions while also being musical, erotic, and deeply pleasurable. Being in the company of Rebecca May Johnson's voice -- companionable, intimate, questioning -- was a sheer delight. I didn't want it to end." —Katherine Angel

"The most compelling book about cooking I've read this year, perhaps ever. Rebecca is a writer of extraordinary intelligence and wit, and I would push this book with feverish enthusiasm into the hands of anyone who spends time in the kitchen." —Jackson Boxer's Christmas gift guide, Evening Standard

"Brave, funny, thought-provoking, heart-warming, and like nothing else you will have ever read." —The best food books for Christmas, Club Oenologique

"Cooking is thinking is the takeaway argument of Small Fires, and I can't tell you how good it felt to read those three words in succession without some kind of qualification." —Chantal Braganza, Hazlitt

"The creative, bracing essays of Rebecca May Johnson's Small Fires redefine the act of cooking and elevate the value of domestic labor... with a combination of intellectual rigor and playfulness, they analyze the emotions, difficulty, and importance involved in offering food to others." —Foreword Reviews

"In Small Fires, Johnson gives the [recipe] text the epic it deserves, looking at it every which way but prioritizing the living, breathing, hungry eye of the home cook" —N+1 Magazine

"A welcoming, challenging, original meditation on recipes and their use." —Los Angeles Review of Books

"Keenly aware of the assumptions that have informed so much writing about food, Johnson seeks to restore cooking to its rightful place as a form of knowledge—one through which pleasure, desire, and resistance can be expressed." —The New Republic

"Johnson peels back the layers, looking at what food, appetite and pleasure mean in a bold and imaginative way."
— Glamour (UK)

"Rich in pleasure and revelation." — Guardian, Paperbacks of the Month

"Small Fires put me back in the kitchen. Not just physically, but spiritually. I'm back in my kitchen. I'm making messes. My cookbook pages are splattered with little gluttonies. Food is by no means too good for words, and Johnson's are too perfect a pairing. Read this book or else."— Stacy Wayne D.
ISBN: 9781911590484
Dimensions: unknown
Weight: unknown
192 pages