Riambel
Format:Paperback
Publisher:The Indigo Press
Published:23rd Feb '23
£10.99
Available for immediate dispatch.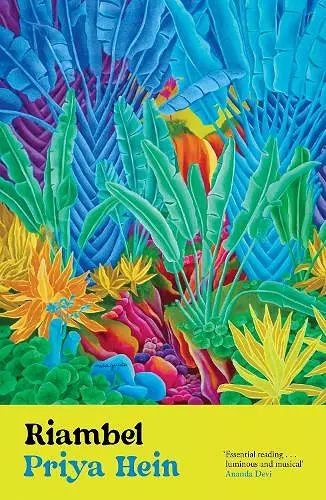 Fifteen-year-old Noemi has no choice but to leave school and work in the house of the wealthy De Grandbourg family. Just across the road from the slums where she grew up, she encounters a world that is starkly different from her own – yet one which would have been all too familiar to her ancestors. Bewitched by a pair of green eyes and haunted by echoes, her life begins to mirror those of girls who have gone before her. 
Within Noemi's lament is also the herstory of Mauritius; the story of women who have resisted arrest, of teachers who care for their poorest pupils and encourage them to challenge traditional narratives, of a flawed Paradise undergoing slow but unstoppable change.
In Riambel, Priya Hein invites us to protest, to rail against longstanding structures of class and ethnicity. She shows us a world of natural enchantment contrasted with violence and the abuse of power. This seemingly simple tale of servitude, seduction and abandonment blisters with a fierce sense of injustice.
'Not only am I finding the book really fascinating but I'm getting through it really quickly as I'm compelled to turn the pages!'
https://www.instagram.com/p/ChpjzZVoD0Y/?hl=en
'4 stars'
https://www.instagram.com/p/Ch7tYSoLqSr/?hl=en
-- @zukythebookbum * Instagram *
'I absolutely flew through it. The short chapters ignite the pace, delivering punch after punch and I found myself mesmerised by Priya's fierce yet beautiful writing. This is one you won't want to miss.'
https://www.instagram.com/p/CkApRfnrcvl/?hl=en
-- @adleilareads * Instagram *
'The premise of this novel feels incredibly timely'
https://www.instagram.com/p/ChpkEiNo0pi/?hl=en
-- @between2books_ * Instagram *
The Selection for the 2022 Literary Season
'A punchy novel that arouses indignation'
https://librairie-quartierlatin.fr/2022/09/10/la-selection-de-la-rentree-litteraire-2022/
* Quartier Latin *
Paradise, Lost: Priya Hein's Riambel
"In the span of a mere 160 pages, this extraordinary debut packs rare insight into the trauma and deference seeded by the long reign of capitalism and the white man's whims."
https://www.cardiffreview.com/review/paradise-lost-priya-heins-riambel/
-- Vartika Rastogi * The Cardiff Review *
Priya Hein: 'Laughing loudly' at Riambel
https://www.lexpress.mu/article/413921/priya-hein-rire-en-belle-riambel?utm_medium=Social&utm_source=Twitter#Echobox=1664170894-1
-- Aline Groeme-Harmon * L'Express *
61 Anticipated African Books of 2023
https://brittlepaper.com/2023/01/61-anticipated-african-books-of-2023/
-- Alesia Alexander * Brittle Paper *
Isele Magazine's Most Anticipated African Books of 2023
https://iselemagazine.com/2023/01/13/isele-magazines-most-anticipated-african-books-of-2023/
* Isele Magazine *
Reads for the Rest of Us: The Most Anticipated Feminist Books of 2023
https://msmagazine.com/2023/01/25/anticipated-feminist-books-2023/
-- Karla J. Strand * Ms. Magazine *
'a vivid, sensory book'
https://www.irishtimes.com/culture/books/review/2023/02/24/browser-how-the-head-of-mi6-tried-to-derail-charles-haugheys-career/
-- Ruth McKee * The Irish Times *
'Riambel by Priya Hein: a sensual and deceptively simple evocation of generational slavery'
https://lucywritersplatform.com/2023/03/07/riambel-by-priya-hein-a-sensual-and-deceptively-simple-evocation-of-generational-slavery/
-- Laetitia Erskine * Lucy Writers *
Shame and Violence: How a history of slavery continues to dictate Mauritian lives
https://www.the-tls.co.uk/articles/riambel-priya-hein-book-review-yagnishsing-dawoor/
-- Yagnishing Dawoor * T
ISBN: 9781911648499
Dimensions: 198mm x 129mm x 12mm
Weight: 160g
160 pages