The Come As You Are Workbook
a practical guide to the science of sex
Format:Paperback
Publisher:Scribe Publications
Published:8th Aug '19
£12.99
Available for immediate dispatch.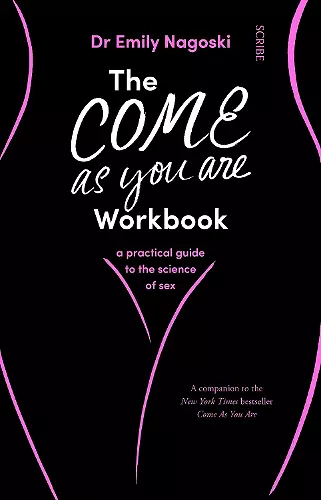 A practical workbook from the New York Times-bestselling author of Come As You Are that will radically transform your sex life.
In Come As You Are, sex educator Dr Emily Nagoski revealed the true story behind female sexuality, uncovering the little-known science of what makes us tick and, more importantly, how and why.
Now, in The Come As You Are Workbook, she offers practical tips and techniques that will help women to have the mind-blowing sex that they deserve (and that men have been having all along).
This collection of worksheets, journaling prompts, illustrations, and diagrams is an engaging companion for anyone who wants to further their understanding of their own bodies and sexuality.
Praise for Come As You Are:
'Nagoski's book deserves plaudits for the rare achievement of merging pop science and the sexual self-help genre in prose that's not insufferably twee … [Come As You Are] offers up hard facts on the science of arousal and desire in a friendly and accessible way.'
* The Guardian (UK) *
Praise for Come As You Are:
'This is the best book I have ever read about sexual desire and why some couples just stop having sex, and what they can do about it. Come As You Are is an absolutely necessary guide for all couples who want to understand the ups and downs in their own sex life. It is a must read!'
-- John Gottman, PhD, author of
The Seven Principles for Making Marriage Work
Praise for Come As You Are:
'Emily Nagoski has written one of the most important books about sex any woman (or anybody else) could ever pick up, full of insights that are both fascinating and deeply useful. Synthesising new research and theory about sexuality with old-school sex-positive information of the sort you didn't learn in sex ed (unless, perhaps, you are a Unitarian, or Scandinavian, or lucky enough to be in Dr. Nagoski's class), I guarantee Come As You Are will open minds and change lives.'
-- Carol Queen, PhD, Founding director, Center for Sex & Cul
ISBN: 9781912854554
Dimensions: 210mm x 135mm x 13mm
Weight: unknown
224 pages