No Visible Bruises
what we don't know about domestic violence can kill us
Format:Paperback
Publisher:Scribe Publications
Published:1st Mar '20
£9.99
Available for immediate dispatch.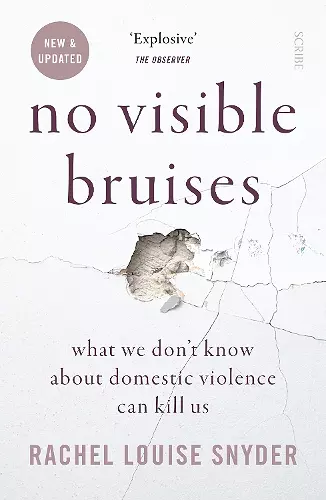 NEW AND UPDATED — A NEW YORK TIMES, ECONOMIST, AND ESQUIRE BOOK OF THE YEAR.
Love, desire, intimacy — we all know what these are meant to look like. But what happens when they descend into violence?
Award-winning journalist Rachel Louise Snyder once believed all the common misconceptions about domestic violence: that it happens to an unlucky few; that it's a matter of poor choices; that if things are dire enough, victims will leave. Her perception changed when she began talking to the victims and perpetrators whose stories she tells in this book.
Fearlessly reporting from the front lines of what the WHO has deemed a 'global epidemic', Snyder interviews men who have murdered their families, women who have nearly been murdered, and a range of professionals in advocacy and law enforcement, painting a vivid and nuanced picture of what happens when relationships go badly wrong.
The problem is on the rise: an average of 137 women are killed by familial violence worldwide every day. Two women die at the hands of their partners each week in the UK. In the US, domestic homicides have increased by 32 per cent since 2017. And in South Africa, a woman is now killed every three hours. No Visible Bruises tells the intimate stories behind these headlines, and lays out the society-wide changes that are urgently needed to stop domestic violence in its tracks.
'Clear, smooth and accessible … never folksy but never academic and so matter-of-fact you can feel the writer holding herself in check so as not to overwhelm us with painful details.'
-- Amy Bloom * The Observer *
'Powerful … No Visible Bruises is a call for action, not a cry of despair. Snyder has written not only an admirable book, but one that should spur change.'
-- Rosamund Urwin * The Sunday Times *
'No Visible Bruises is a seminal and breathtaking account of why home is the most dangerous place to be a woman. Through brilliant insights and myth-busting research, compelling storytelling, and a passionate focus on truth-telling, Rachel Louise Snyder places domestic violence exactly where it should be, smack in the centre of everything. A tour de force.'
-- Eve Ensler, author of
The Vagina Monologues
and
The Apology
'Powerful … Snyder exposes this hidden crisis by combining her own careful analysis with deeply upsetting and thoughtfully told accounts of the victims … To her credit, Snyder takes seriously the underlying causes of violence, interviewing perpetrators and noting that many have often been victims themselves … [An] important book.'
-- Alisa Roth * New York Times *
'A book that manages to be both personal and panoramic, angry and hopeful.'
* The Economist *
'This chilling, vital, and urgent book deserves to be read by everyone.'
-- Joanna Whitehead * The Independent *
'This is terrifying, courageous reportage from our internal war zone, a fair and balanced telling of an unfair and unbalanced crisis in American family life. Snyder writes with stark lucidity and great compassion, and tells stories of utmost urgency with considerable narrative skill.'
-- Andrew Solomon, National Book Award-winning, bestselling author of
The Noonday Demon, Far from the Tree,
and
Far and Away
'Tightly paced, compelling, fascinating and heart-breaking in equal measures … The writing style is always clear and accessible as Snyder deftly dismantles myths around violence against women. It's an extraordinary book that deserves to be widely read.'
-- Louise O'Neill * Irish Examiner *
'Deeply impactful and thoroughly researched … a truly unique and beneficial account of abuse and its cultural context.'
-- Laura Kennedy * The Irish Times *
'An extraordinary book.'
* Marie Claire *
'Gut-wrenching, required reading.'
* Esquire, 'Best of Spring' *
'A passionately written, highly intelligent and lucid book … Snyder weaves compelling personal accounts through her deeply researched narrative … it's literary non-fiction at its best, an authoritative, multi-dimensional work that melds hard-headed reporting with self-reflective analysis.'
-- Frieda Klotz * Irish Independent *
'Rachel Louise Snyder has uncompromising truths to tell about domestic violence.'
* The Oldie *
'Compulsively readable … In a writing style that's as gripping as good fiction, as intimate as memoir and deeply informed, [Snyder] takes us into the lives of the abused, the abusers and the survivors … The stories are devastating, but Snyder keeps us reading by pointing us toward possible solutions … After a few chapters, I was telling a prosecutor friend that everyone in her office — no, everyone in the state who deals with family violence — had to read this book. Because it will save lives.'
* The Washington Post *
'Snyder debunks pervasive myths and writes movingly about the lives (and deaths) of people on both sides of the equation. She doesn't give easy answers but presents a wealth of information that is its own form of hope.'
* New York Times *
'A meticulous study of the often-overlooked risk factors for women being killed by current or former partners.'
* The Economist *
'A brilliant work … what makes it move with the suspense of a beach novel is Snyder's passionate storytelling, [which] often soars to the point of lyricism but remains unfailingly honest.'
* Ms. Magazine *
'Extraordinary … [No Visible Bruises] takes apart the myths that surround domestic violence … In its scope and seriousness — its palpable desire to spur change — this book invites reflection not only about violence but about writing itself … [Snyder] brings all of fiction's techniques to this new book — canny pacing, an eye for the animating detail and bursts of quick, confident characterisation. There is a fullness and density to every one of her subjects … She glides from history to the present day, from scene to analysis, with a relaxed virtuosity that filled me with admiration. This is a writer using every tool at her disposal to make this story come alive, to make it matter.'
* Parul Sehgal,
New York Times
, 'Editor's Choice' *
'This sympathetic look at victims, perpetrators, and intervention efforts by law enforcement and social agencies makes for compelling reading ... Snyder's chilling body of evidence shows that domestic abuse is a pervasive epidemic that can and does happen everywhere.'
* Booklist *
'A powerful exploration of the sinister, insidious nature of domestic violence in America … Bracing and gut-wrenching, with slivers of hope throughout, this is exemplary, moving reportage on an important subject that often remains in the dark due to shame and/or fear.' STARRED REVIEW
* Kirkus Reviews *
'I cannot imagine how Rachel Louise Snyder had the strength to write this book — it's like the journal of a war correspondent. By witnessing the toll of family violence, she wants to take public this private horror. No Visible Bruises is a keening for the battered and a shout of outrage for the lost, a case for the higher awareness that could make us better humans.'
-- Ted Conover, author of
Newjack
, and director of NYU's Arthur L. Carter Journalism Institute
'No Visible Bruises snapped open my eyes to the direct link between patriarchal entitlement and violence against women, between the way men are raised to the way women are treated. From her dismantling of the term 'domestic violence', which not only couches a pervasive public menace in homey, private terms, but echoes a sick culture in denial, to her connecting the dots between acts of terror and acts of domestic terror, Snyder's is an indispensable, important book.'
-- Carina Chocano, author of
You Play the Girl
'Snyder's singular achievement is that she illuminates the dark corners of this spectre as a way to understand it and thus eliminate it.'
-- J. Anthony Lukas Prize, judges' citation for
No Visible Bruises
'[Snyder] has written a book about everything about men who beat and kill their wives or girlfriends; about people who work to predict murder, and those who try to heal the abusers; and also, deeply, about gender, poverty, depression, despair, privilege, law enforcement, incarceration, justice, mental health, and politics … It takes a writer of uncommon talent and confidence to pull this off. Snyder's stories are about people, every single one of whom is drawn empathically. Her investigation is intellectual and unsparingly complex.'
* Masha Gessen,
The New Yorker
's 'Page-Turner' blog *
'Snyder [goes] both wide and deep … her empathy for the victims is powerful, and infectious. But so is her interest in the perpetrators, some of whom may be able to recover, to change and atone. And as she makes very clear, those who undertake reform — studying and quantifying risk, asking smart questions about whether women's shelters help or hurt, counseling survivors and getting them the support they need — are heroes.'
* Los Angeles Times *
'Should be required reading for lawmakers across the country.'
* Minneapolis Star Tribune *
'[A] powerful investigation into intimate partner abuse … with closely observed, compassionate portraits of victims, advocates, abusers and police. Penetrating and wise, and written in sometimes novelistic prose, Snyder's sobering analysis will reward readers' attention.' STARRED REVIEW
* Publishers Weekly 'Best of the Year' *
'A searing examination of domestic violence in the US'
-- Melissa Jeltsen * HuffPost *
'Snyder's willingness to tell the intimate stories of domestic violence sheds light on an often neglected subject. All of us have a stake in becoming more aware of and responsive to private violence, and this book proves why.' STARRED REVIEW
* BookPage *
'We can't afford not to be talking about domestic violence. Snyder argues that it has reached epidemic proportions in the country — it accounts for 15 percent of all violent crimes — with devastating effect. She combines her analysis with interviews with survivors, advocates, and occasionally, the perpetrators themselves.'
*
The New York Times
, 'Books To Watch For In May' *
'An incredible piece of reporting'
*
BookRiot
, 'Best of the Year So Far' *
'By focusing on case studies — individuals' stories — Snyder returns humanity to the horrifying larger issue … placing domestic violence in relationship to issues of economics, education, employment, the criminal justice system and other, more 'public' types of violence … No Visible Bruises speaks with urgency about solving a problem that, however invisible, affects us all. This thoroughly researched examination of the domestic violence epidemic is chilling but deeply important and surprisingly accessible.'
-- Julia Kastner * Shelf Awareness *
'No Visible Bruises is a compelling account of the root causes of the domestic violence epidemic in the US and attempts to respond to it … an excellent read.'
-- Nicole Abadee * Australian Financial Review *
'It pains to read this latest work from American University professor and novelist Snyder … [W]hile graphic, this book is not gratuitous; rather, it illuminates the realities of domestic violence, working off the premise that instead of only targeting survivor recovery, our concern must be eradicating the behaviours of those who commit abuse … A compelling treatise on how domestic violence correlates with larger societal problems detracting from the quality of life for all genders.'
-- Jennifer M. Schlau * Library Journal *
'A meticulous study of the often-overlooked risk factors for women being killed by current or former partners.'
* The Economist *
'Snyder's in-depth reporting and vivid writing imbue the book with drama and tension … A welcome addition to the efforts that bring this brutal crime out from behind closed doors and provide hope for the future.'
* Los Angeles Review of Books *
'There is a compelling determination to Snyder's writing as well as to her suggestion that if we tell these stories enough, that if we find the right way to tell them, then maybe someday we won't have to tell them anymore.'
* Ploughshares *
'Invaluable, deeply reported ... Snyder's discussion ... regarding mass shootings, is particularly astonishing ... "Domestic violence is like no other crime," Snyder writes, and by the time you finish this book, you will believe it ... Snyder is unsparing on the role of guns in our culture, acknowledging that the US is "the most dangerous developed country in the world for women."'
-- Caroline Fraser * The New York Review of Books *
'Snyder provides a valuable tool for understanding domestic violence and for thinking about a way forward. In its mix of storytelling, cultural analysis, and skilled reporting, No Visible Bruises is an essential part of the ongoing conversation ... Before it all seems too bleak, Snyder manages to find some light ... With its harrowing stories and lack of easy answers, No Visible Bruises is a demanding read, even though Snyder's prose and pacing carry it well. For many readers – and not only those new to these topics – the book will bring vital information and at least some hope. Our continuing culture of violence in general and of domestic violence in particular creates some grim situations, but advancement remains possible, first through knowledge and then through effective change. Snyder's look at these matters should become an important part of that process.'
-- Justin Cober-Lake * Spectrum Culture *
Praise for Fugitive Denim:
'Contains a number of surprises about the most ubiquitous of clothes … Ultimately Snyder gets readers to think about the real costs of clothing, and it's likely they won't look at $30 or $200 jeans the same way again.'
Praise for What We've Lost Is Nothing:
'Rachel Louise Snyder writes with the rigorous scrutiny of an investigative journalist and the deep and roving empathy of a natural-born novelist; the result is a bold and mesmerising exploration of daily truths we don't talk about nearly enough: class prejudice and racism; the chasm between newly arrived immigrants and those of us who've been here for generations; the painful division between husbands and wives and the children they've made; and that razored air between what we believe and what is. What We've Lost is Nothing is a stellar debut by an important and necessary new voice among us.'
-- Andre Dubus III, author of
House of Sand and Fog
and
Townie
Praise for What We've Lost Is Nothing:
'Veteran journalist Snyder crafts a muscular and fearless debut novel that boldly tackles the heady themes of prejudice, self-preservation, poverty and privilege … Snyder's drama provocatively reveals the escalating tensions of a community about to implode.'
* Bookli
Winner of J. Anthony Lukas Work-in-Progress Award 2018 (United States)
Short-listed for National Book Critics Circle 2020 (United States)
Short-listed for New York Public Library Helen Bernstein Book Award for Excellence in Journalism 2020 (United States)
Short-listed for Kirkus Prize for Nonfiction 2019 (United States)
Short-listed for Los Angeles Times Book Prize for Current Interest 2019 (United States)
ISBN: 9781912854851
Dimensions: 198mm x 129mm x 19mm
Weight: unknown
336 pages