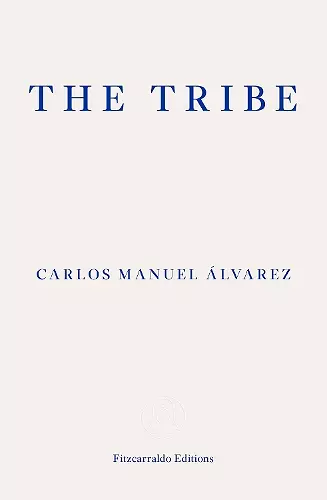 A dizzying portrait of contemporary Cuba as it has rarely been seen, by an up-and-coming Cuban novelist.
Teeming with life and compulsively readable, the pieces gathered together in The Tribe aggregate into an extraordinary mosaic of Cuba today. Carlos Manuel Álvarez, one of the most exciting young writers in Latin America, employs the crónica form – a genre unique to Latin American writing that blends reportage, narrative non-fiction, and novelistic forms – to illuminate a particularly turbulent period in Cuban history, from the re-establishment of diplomatic relations with the US, to the death of Fidel Castro, to the convulsions of the San Isidro Movement.
Unique, edgy and stylishly written, The Tribe shows a society in flux, featuring sportsmen in exile, artists, nurses, underground musicians and household names, dissident poets, the hidden underclass at a landfill, migrants attempting to make their way across Central America, fugitives escaping the FBI, dealers from the black market, as well as revelers and policemen in the noisy Havana night. It is a major work of reportage by one of Granta's Best of Young Spanish-Language novelists.
'There is magic in these pages…[T]his book tells the actual story of Cuba as it exists today.'
— Jon Lee Anderson
'Álvarez is very good on the absurdist rituals of zombie totalitarianism…The Tribe vividly explores the more offbeat milieus and people of an extended Cuba.'
— Lorna Scott Fox, TLS

 'A journalistically rigorous picture of Cuban life, The Tribe is characterized by the gaps between Álvarez's subjects. Using interviews and on-site reportage, Álvarez profiles people from various socioeconomic backgrounds, with contrasting political affiliations. The sketches he compiles demonstrate a wide range of experiences and perceptions of Cuba. Álvarez allows the juxtapositions between these profiles to reveal a country that looks different from person to person.... A nation is, after all, nebulous— the only way to make an honest portrait is to approach it from myriad perspectives. In The Tribe, the resulting mosaic is rich for its nuance and contradictions.'
— Morgan Graham, Chicago Review of Books
'Àlvarez has smuggled an important ethnographic work inside the form of an entertaining and well-written crónica.'
— Alex Payne, Buzz Magazine

'Álvarez does not try to instruct or speculate. He does not write on whether the Revolution succeeded or failed. He does not determine whether the leader was a hero or a tyrant. His book is not an explanation: it is …. the history of a country told through its people.'
— María Teresa Hernández, AP News
'That rarest of books about a people that achieves a restorative function without idling in a documentarian mode, The Tribe's gift to its subjects is not raising them as a hot topic, but by preserving their dignity in spite of the headlines.'
— Words Without Borders

'This is one of those books you'll read in a single sitting. Conveying readers to the turbulent landscapes of Cuba's recent political past, it offers a refreshing assessment of the country outside of typical historic tropes, giving voice to ordinary Cubans, from artists and nurses to underground musicians and dissident poets.'
— Lucy Kehoe, Suitcase Magazine
ISBN: 9781913097912
Dimensions: unknown
Weight: unknown
336 pages