Orpheus Builds A Girl
Format:Hardback
Publisher:Gallic Books
Published:6th Oct '22
£16.99
Available for immediate dispatch.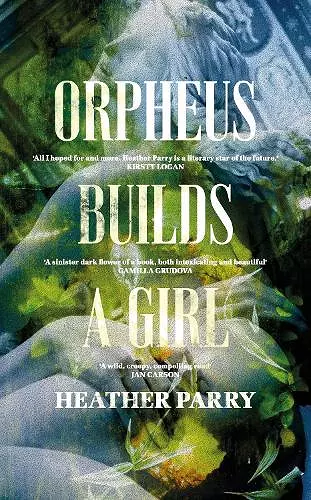 . Galleys available for influencers, librarians, booksellers and trade - both digital and physical . Publications targeted for review - traditional press and online review slots . Pushed for seasonal readathons/ readalongs on bookish social media . Alternative media targeted for features and reviews including podcasts, magazines and blogs . Campaign across social media including paid social media . Seeking endorsements from relevant figures . Author available for interviews and features . Audiobook planned . Promotion through author website, Gallic Books website and direct newsletters . Galleys available for booksellers/reps and promotions e.g. Indiebound . Entry into relevant awards
The hotly anticipated debut novel from award-winning author Heather Parry, Orpheus Builds a Girl is a truly chilling modern Gothic, based on a true story of sexual obsession and evil masquerading as love. For fans of Carmen Maria Machado, Eliza Clark, Kristen Roupenian and Julia Armfield.Based on a true story, Orpheus Builds a Girl is a novel of sisterly love, sinister obsession, and the battle for control of the story. A dark, chilling debut novel from award-winning writer Heather Parry. German doctor Wilhelm Von Tore shares with the reader the story of his one true love; a love written in the stars, decades in the making, a love so strong it transcended death itself. When Wilhelm emigrates to America he carries with him a vision of a dark-haired beauty, presented to him in his dreams by his beloved late Grandmother. In Key West, Florida, a beautiful young woman is taken to him in the grip of illness, and he recognises her immediately as his promised bride. Despite his efforts, the sickness takes hold and his beloved slips away from him. But Wilhelm will not be kept from his destiny, not even by death. Using research compiled over decades, he sets about attempting to restore his love to her body, so that they might be together forever. But there's another voice in this story: Gabriela, and she will not let this version of events go unchallenged. From between the cracks in Wilhelm's story Gabriela recounts her own memory of her sister Luciana, a fiery and difficult young woman, and the madman who robbed her from her grave.
Winner of the 2016 Bridge Award for an Emerging Writer Cove Park's 2017 Emerging Writer Resident 2021 Hawthornden Fellow
ISBN: 9781913547400
Dimensions: unknown
Weight: unknown
320 pages