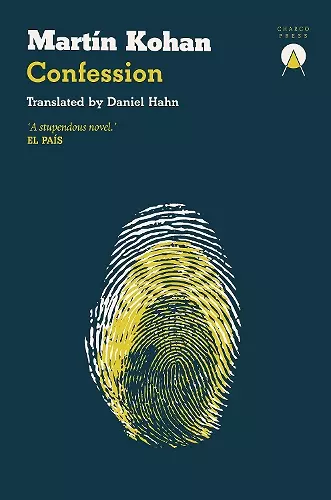 Brutal and overwhelming, Confession wrestles with the legacy of Argentina's past and the passions of one young girl.
There are mysteries in the world of man, just as there are in the Kingdom of God, and that they too, albeit quite differently, are unfathomable.
When Mirta López looks out the dining room window, she sees a slim, self-possessed older boy on his way back from school. It's 1941 in provincial Argentina, and the sight of the Videla's eldest son has awakened in her the first uncertain, unnerving vibrations of desire. Naturally, she confesses. But she cannot stop herself. Thirty years later, Videla is a general, leading the ruling military junta, and a cell of young revolutionaries plot an ingenious attack on him, and the regime. Writing from the present into the past, Martín Kohan maps the contours of Argentina's 20th Century, but finds his center in one woman—devout, headstrong, lit up with ideas of right and wrong—not the grand historical figures of her lifetime's omnipresent, brutalizing history. "There is an art to keeping lives constant, not allowing them to be altered by facts that are merely external." And there is great beauty in Confession , its decades and landscapes, and the legacy of love and guilt playing out in one family and against the background of dictatorship's traumas.
"An expertly structured, morally complicated, and surprisingly timely blend of fact and fiction." —Kirkus
"Beguiling." —Publishers Weekly
"The prose of Argentinian writer Martín Kohan, above all in the most recent books, conveys a clinical precision and cool distance. From one novel to another, however, the effects are different. – Edmundo Paz Soldán"" —Edmundo Paz Soldán , author of TURING'S DELIRIUM and NORTE
"Hypnotic prose. A writer who owns a literary universe and a style all his own; a writer of unquestionable solidity." —El periódico
"Confession delves into Kohan's poetics in an agile and determined manner, preserving his affectionate distance from the intimate affairs of his characters, as well as his freedom vis-à-vis militant writing" —Latin American Literature Today
"A must-read." —Morning Star
"A stupendous novel." —El País
"One of Argentina's greatest living writers." —La gaceta literaria
"A fantastic writer whose texts question established ideas." —Letras Libres
"Kohan works with tradition and with the Borgesian idea of the traitor and the hero. He chooses three situations and explores them minutely." —La Nación
"Kohan's novel understands and helps to understand; it delimits, records, pursues and reaches the most slippery crevices of history." —Letralia
"The end result is a fluid, disturbing novel, one that neither resorts to low blows nor commonplaces when it comes to the military regime and the disappeared, but puts its finger on that concept that still causes unease when spoken aloud: civilian complicity." —La primera piedra
"Martín Kohan is becoming an obligatory name in Argentinian literature." —Pagina/12
"With a gift for totally natural dialogue, Kohan writes with an elegant lightness, paying great attention to rhythm. His specialty is the measured, exact word. Impeccable" —El Mundo
************
Praise for Martín Kohan
"The worthy successor of Borges, Sábato and Bioy Casares." —Le Devoir
"An expertly structured, morally complicated, and surprisingly timely blend of fact and fiction." —Kirkus
"Beguiling." —Publishers Weekly
"Hypnotic prose. A writer who owns a literary universe and a style all his own; a writer of unquestionable solidity." —El periódico
"A stupendous novel." —El País
"One of Argentina's greatest living writers." —La gaceta literaria
"A fantastic writer whose texts question established ideas." —Letras Libres
"Kohan works with tradition and with the Borgesian idea of the traitor and the hero. He chooses three situations and explores them minutely." —La Nación
"Kohan's novel understands and helps to understand; it delimits, records, pursues and reaches the most slippery crevices of history." —Letralia
"The end result is a fluid, disturbing novel, one that neither resorts to low blows nor commonplaces when it comes to the military regime and the disappeared, but puts its finger on that concept that still causes unease when spoken aloud: civilian complicity." —La primera piedra
"Martín Kohan is becoming an obligatory name in Argentinian literature." —Pagina/12
************
ISBN: 9781913867652
Dimensions: unknown
Weight: unknown
165 pages