Snap!
Format:Hardback
Publisher:Scribe Publications
Published:11th May '23
£12.99
Available for immediate dispatch.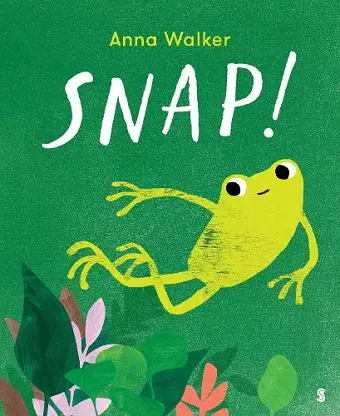 A brilliant onomatopoeic text accompanies the iconic illustrations of Anna Walker in this hilarious and utterly adorable frog adventure.
How will Frog escape the swoops, snips, and snaps of all sorts of animals in the forest and get to the party on time? This is a delightful, gripping, and funny adventure narrative aimed at very young readers, that will no doubt appeal to older children and adults alike.
'The simple repetition of words throughout the story invites lively call-and-response read-alouds with little ones, while Walker's rich washes of colour prove irresistible, drawing the focus with their saturated hues and patterns. With gorgeous illustrations, a very expressive amphibian, and plenty of animals to spot and count along the way, this book is sure to become a firm favourite at home. For ages 0+.'
-- Kate McIntosh * Readings Kids *
'Anna Walker has cleverly created a humorous, energetic, and playful tale of a frog's adventure through the jungle and the unexpected creatures it meets along the way. It is immediately relatable to young children, with its minimal, simple and direct language that perfectly evokes the sensory world of the frog and the other creatures in it. The tactile front cover is bright and engaging, with the little frog literally leaping off the front and into the narrative. The endpapers extend the storyline, and the text is creatively positioned on the page, like the movement of text mirroring the animals' actions, which adds interest and catches the eye. The story's pace is maintained by the illustrations and humour introduced by the near misses of the frog as it narrowly escapes the dangers around it. While the predominantly green pages immerse the reader into the setting of a jungle, the illustrations are varied in design and colour and are offset by a clever use of texture using collage techniques on such things as tree trunks, water, and birds' feathers. This is a picture book that will bring joy and demand repeated rereading, whilst also offering the opportunity to join in with the story.'
-- Judges' Comments from the CBCA
'This is such fun to read aloud! … Lovely deep colours and texture from the ink and gouache artwork are so appealing. Despite the few words, all of the animals have personality and there is happy energy to the frog's adventure. This is a great book of alliterative sounds to read with young children.'
--
Youth Services Book Review
, starred review
'Walker follows an inquisitive little yellow-green frog as it explores its aquatic habitat, an ink and gouache expedition evoked with eye-popping hues, playful shapes, and all-onomatopoeia text … [A] boldly visual tribute to curiosity, independence, and being a strong hopper.'
* Publishers Weekly *
'Living a frog's life is no easy feat: Frog jumps and plays, jumps and swoops, trying to escape the snips, and snaps of all sorts of animals in the forest. Of course, he will survive the day and be with his friends in the end. The illustrations are very clever and the young readers will enjoy all the pretty sounds made on each page.'
* GeekDad *
'Snap! is an exuberant gem of a picture book.'
* Paperbark Wor
Short-listed for CBCA Book of the Year: Early Childhood 2023 (Australia)
Short-listed for ABDA Best Designed Children's Picture Book 2023 (Australia)
Short-listed for Panda Book Awards for Younger Nominees 2023 (China)
Short-listed for Speech Pathology Australia Book of the Year Award for Age Category: Birth to three 2023 (Australia)
Long-listed for BookPeople Kids' Reading Guide's Children's Book of the Year 2023 (Australia)
ISBN: 9781914484346
Dimensions: 275mm x 225mm x 9mm
Weight: unknown
32 pages