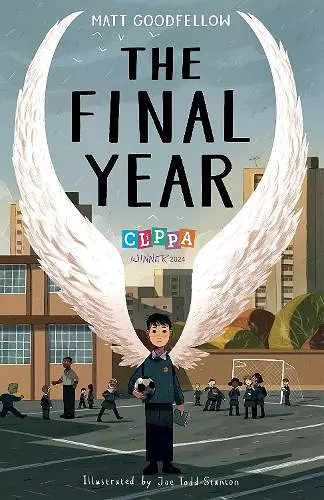 The first novel, told in verse for middle-grade readers, by a leading children's poet, with atmospheric pictures by a Carnegie-shortlisted illustrator
See that tall, skinny kid with the ball in his hand
sayin see ya later to his mate?
That's me:
Nathan Wilder
Nate.
10 years old
and a week away from the end of Year 5.
Life can be tough in your last year of primary school. Tests to take, preparing for the change to high school. Nate is ready for it all, knowing his best friend PS is at his side - they've been inseparable since Nursery.
But when they are put in two different classes and PS finds a new friend in Turner, the school bully, Nate's world turns upside-down. As he struggles to make sense of this and forge new friendships, he's dealt another blow when his youngest brother, Dylan is rushed into hospital.
His new teacher, Mr Joshua, sees a spark inside of Nate that's lit by his love of reading and writing and shows him how to use this to process what's going on. But with so much working against him, and anger rising inside him, will this be enough?
A powerful and lyrical story about finding your place in the world and the people that matter within it.
"I am pleased to report it is EXCELLENT in every way. Told in verse, with illustrations, it focuses on a young boy going into school year 6. Think friendships, SAT's, family life. This book will steal your heart, rearrange it and return it. Lovely references to David Almond. This is most definitely recommended to all age 8 upwards, all parents, all teachers. Simply go buy it!"
-- Fiona Sharp * Independent Book Reviews *
"A beautiful story of friendship, family, grief, falling apart and putting yourself back together again. Also a love letter to David Almond who I agree is one of the Greats of All Time."
* Manjeet Mann *
"Matt Goodfellow is a stunning poet, well known for his beautifully crafted, often poignant work, which is highly relatable. In 'The Final Year', he has brought all his skill with language to create a very powerful verse novel which is sensitive and incredibly relevant...
There are a million more things which I could say about this incredible book… but I just suggest people read it and get it into the hands of children who will see themselves and feel understood, recognised and valued. More books like this are needed."
* Through The Bookshelf *
"Well-written, authentic and very moving. And could really help to inspire children to write their own stories in their own voices."
* David Almond *
"Written with compassion and sensitivity by Matt Goodfellow and blessed with Joe Todd-Stanton's distinctive illustrations, this eminently relatable coming-of-age verse novel revolves around Nate's troubled journey into the final year of primary school."
* Waterstones: The Children's Books You Need to Read in 2023: July - December *
"Coupled with illustrations by Joe Todd Stanton – bringing Nate's extended family & The Beats to life. There's a certain Ghibli-esque style to its "No Face" tendril-like arms. Some really affecting work from both creators." Early September OBB are releasing some amazing stuff!
-- Rich Charlesworth via Twitter
"Loved it, read it in one! Putting it in our Back to School bundle for September!"
-- Heath Books via Twitter
"A stunning, emotionally charge verse-novel."
-- Chris Routh * @writeaboutbooks (Twitter) *
"A beautiful verse novel out with Otter Barry Books. Nate's last year at primary school is turned upside-down by friends and family - it is heart-wrenching and heart-warming and I loved it."
-- Maz Evans
"A powerful story told in verse about Nathan's last year of primary school. Nathan has something special in him… poetry. A powerful and absorbing read."
* Inspire: Education Library Services *
"This tender and insightful poetry novel by Matt Goodfellow is a paean to young carers, books (especially by David Almond), good teachers and wings! A sure fire book of the year."
-- Gordon A
ISBN: 9781915659040
Dimensions: unknown
Weight: unknown
288 pages