Bosch
Format:Hardback
Publisher:Taschen GmbH
Published:15th Jul '15
£15.00
Available for immediate dispatch.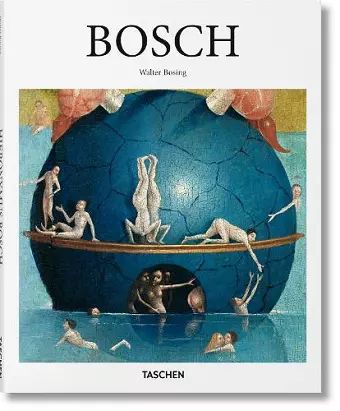 About the Series: Each book in TASCHEN's Basic Art series features: A detailed chronological summary of the life and oeuvre of the artist, covering his or her cultural and historical importance. A concise biography. Approximately 100 illustrations with explanatory captions.
A concise introduction to the compelling pictorial world of one of art history's most mysterious masters, Hieronymus Bosch. From celestial scenes to nightmarish creatures and the grotesque tortures of hell, explore his unforgettable tableaux of temptation, spirituality, and sin.
As cryptic as they are compelling, the masterpieces of Hieronymus Bosch (c. 1450–1516) remain some of the most enduring enigmas of the art world. Their intricate, allegorical, and often startling content has captivated not only art historians, but also fashion designers, rock stars, writers, and punk rockers, as well as countless modern and contemporary artist successors. Although rooted in the Old Netherlandish tradition, Bosch developed a highly subjective, richly suggestive style to render both the celestial bliss of heaven and the grotesque tortures of hell, most famously and meticulously excecuted in The Garden of Earthly Delights. Here, as in his other known works, his artistic language combined religious humility with a razor-sharp wit, often playing off pictorial versions of contemporary proverbs or figures of speech. This book ties together the elusive threads of Bosch's oeuvre to provide a concise introduction to an at once haunting and enthralling pictorial world.
ISBN: 9783836559867
Dimensions: unknown
Weight: 630g
96 pages