This Book Event has already taken place - but you can
watch the replay
if you missed it
Alice Slater – Death of a Bookseller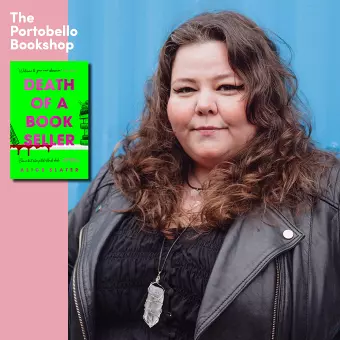 We're horribly excited to be welcoming Alice Slater to the bookshop for an event to celebrate her debut novel, Death of a Bookseller. A compelling thriller with eye-watering insight into the book industry, our booksellers have already found this book hard to put down. Alice will be in conversation with author Kirsty Logan.
This event will take place in the bookshop with an in-person audience, as well as a livestream for attendees watching from home. There will be a signing after the event.
In-person vouchers can be redeemed on the night of the event against a single copy of Death of a Bookseller – we will have a list of attendees with vouchers to be redeemed. Please note that only one voucher can be redeemed per book. Livestream vouchers are valid until the day after the event and can be redeemed on the website against a single copy of Death of a Bookseller.
About Death of a Bookseller:
Meet Laura and Roach: two young woman thrown together as booksellers in a Walthamstow chain bookshop. Roach is drawn to the darkness: antisocial and addicted to true crime podcasts, she loves the sanctuary of the bookshop but is less fond of the customers. Laura, conversely, loves to talk about books with customers and is passionate about her favourite authors, though behind her cheery façade fears her life is falling apart. When Roach discovers a crime in Laura's past a dangerous obsession takes hold, leading the pair down the darkest of paths...
Dark, creepy, thrilling and addictive, Death of a Bookseller is a totally new kind of book, seamlessly transcending genres and exploring the many complexities of female friendship and rivalry.
Please note that tickets for our events are non-refundable. Thank you for your understanding.
Participants:
Alice Slater Author
Alice Slater spent six years working as a bookseller with Waterstones. She started as a Christmas temp in Manchester Deansgate and worked her way up to bookshop manager of Romford, then Gower Street's fiction section, and eventually Notting Hill Gate, lending a hand in 20 different branches across the UK on the way. Now a London-based writer, she is a co-host of literary podcast "What Page Are You On?" and writes about short stories for Mslexia.
Kirsty Logan Chair
Kirsty Logan is the author of the novels Now She is Witch, The Gracekeepers and The Gloaming, the short story collections A Portable Shelter and The Rental Heart & Other Fairytales, the flash fiction chapbook The Psychology of Animals Swallowed Alive, and the short memoir The Old Asylum in the Woods at the Edge of the Town Where I Grew Up. Her books have won the LAMBDA Literary Award, the Polari First Book Prize, the Saboteur Award, the Scott Prize and the Gavin Wallace Fellowship, and been selected for the Radio 2 Book Club and the Waterstones Book Club. She lives in Glasgow with her wife and their rescue dog.
The venue
The Portobello Bookshop
46 Portobello High Street
Edinburgh
EH15 1DA
Telephone: 0131 629 6756
Website: www.theportobellobookshop.com
---
Wheelchair Access
We have a ramp at the front of the shop which has a ratio of 1:10 and loading capacity of 300kg, and so should be able to be used by most wheelchair users or those with mobility vehicles. The front doors are fully automated. Our shop interior is designed to allow access throughout for wheelchair users and prams, though please note there is only 700mm wide clearance to access the staff toilet.

Sound
We use a PA system to enhance the audio at our live events. We also have a hearing loop system installed, if you'd like to use our loop system during an event please let us know and we'll make sure we have it setup and connected to the live audio feed during the event. If you wish to attend an event and require BSL interpretation, please give us a few weeks notice and we'll do our best to arrange an interpreter.