This Book Event has already taken place - but you can
watch the replay
if you missed it
Ambrose Parry - Voices of the Dead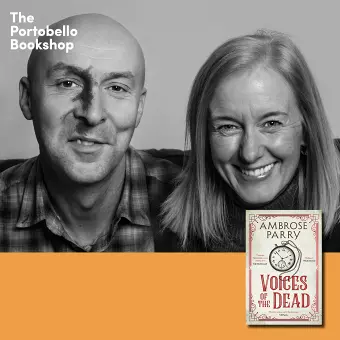 We're delighted to welcome Ambrose Parry to the shop for the launch of their new novel, Voices of the Dead. We'll be joined by both Chris Brookmyre and Dr Marisa Haetzman who co-write brilliant historical crime novels set in Edinburgh under the Ambrose Parry penname. Join us to celebrate the publication of the next instalment in the Raven and Fisher Mystery series, when Chris and Marisa will be in conversation.
This event will take place in the bookshop with an in-person audience, as well as a livestream for attendees watching from home. There will be a signing after the event.
In-person vouchers can be redeemed on the night of the event against a single copy of Voices of the Dead – we will have a list of attendees with vouchers to be redeemed. Please note that only one voucher can be redeemed per book. Livestream vouchers are valid until the day after the event and can be redeemed on the website against a single copy of Voices of the Dead.
About Voices of the Dead:

EDINBURGH, 1853.
In a city of science, discovery can be deadly...

In a time of unprecedented scientific innovation, the public's appetite for wonder has seen a resurgence of interest in mesmerism, spiritualism and other unexplained phenomena.

Dr Will Raven is wary of the shadowlands that lie between progress and quackery, but Sarah Fisher can't afford to be so picky. Frustrated in her medical ambitions, she sees opportunity in a new therapeutic field not already closed off to women.

Raven has enough on his hands as it is. Body parts have been found at Surgeons Hall, and they're not anatomy specimens. In a city still haunted by the crimes of Burke and Hare, he is tasked with heading off a scandal.

When further human remains are found, Raven is able to identify a prime suspect, and the hunt is on before he kills again. Unfortunately, the individual he seeks happens to be an accomplished actor, a man of a thousand faces and a renowned master of disguise.

With the lines between science and spectacle dangerously blurred, the stage is set for a deadly illusion . . .
Please note that tickets for our events are non-refundable. Thank you for your understanding.
Participants:
Ambrose Parry Author
Ambrose Parry is the penname for two very different authors - the internationally bestselling and multi-award-winning Chris Brookmyre and consultant anaesthetist of twenty years' experience, Dr Marisa Haetzman. Inspired by the gory details Haetzman uncovered during her History of Medicine degree, the couple teamed up to write a series of historical crime thrillers, featuring the darkest of Victorian Edinburgh's secrets. They are married and live in Scotland.

Both The Way of All Flesh and The Art of Dying were shortlisted for the McIlvanney Prize for Scottish Crime Book of the Year. A Corruption of Blood is the third Raven and Fisher Mystery.


@ambroseparry
The venue
The Portobello Bookshop
46 Portobello High Street
Edinburgh
EH15 1DA
Telephone: 0131 629 6756
Website: www.theportobellobookshop.com
---
Wheelchair Access
We have a ramp at the front of the shop which has a ratio of 1:10 and loading capacity of 300kg, and so should be able to be used by most wheelchair users or those with mobility vehicles. The front doors are fully automated. Our shop interior is designed to allow access throughout for wheelchair users and prams, though please note there is only 700mm wide clearance to access the staff toilet.

Sound
We use a PA system to enhance the audio at our live events. We also have a hearing loop system installed, if you'd like to use our loop system during an event please let us know and we'll make sure we have it setup and connected to the live audio feed during the event. If you wish to attend an event and require BSL interpretation, please give us a few weeks notice and we'll do our best to arrange an interpreter.