This Children's Event has already taken place
Bridget Campbell – Trudy & Me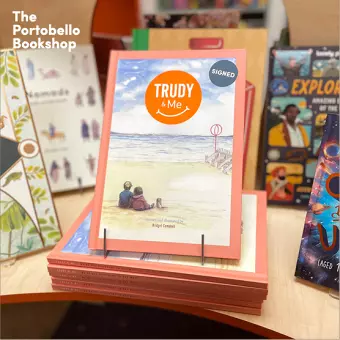 We're delighted to be hosting a children's event with local author and illustrator Bridget Campbell for her wonderful book Trudy & Me, a joyful Portobello-set picture book about siblings and about accepting and celebrating difference.
Come to the bookshop on Saturday 25th March and join Bridget for a fun-filled interactive morning exploring her brand new picture book, Trudy & Me! Children aged 4+ are invited to join Bridget for a special reading and a crafty session of drawing and colouring based on the book's illustrations. Pens and pencils required for the event will be provided as part of the booking. We expect this event to last around 30 minutes, and there will be a chance to get a copy of Trudy & Me signed by Bridget.
In-person vouchers are redeemable against a copy of Trudy & Me on the day of the event.
Set in Portobello, Edinburgh, Trudy & Me is a picture book that shares the perspective of Lauren's children; Patrick (aged 4) and Trudy (aged 2) who has Down's Syndrome. The event ties in with World Down Syndrome Day (on Tuesday 21st March).
The book is a collaboration between Bridget Campbell and Lauren Eliott Lockhart: 'By representing equality and diversity, we are giving children with disabilities a powerful message that they belong and have a place in our world. Seeing someone like themselves illustrated in a book is hugely validating and can be life changing.'

Please note: Tickets for our events are non-refundable. Professional photography and videography may take place during this event (attendees' faces would not be shown). Thank you for your understanding.
Participants:
Bridget Campbell Author
Bridget Campbell has always loved reading and drawing. Studying English Literature at university gave her a glorious four years of sitting in comfy armchairs, disappearing between the pages of books to get a sense of the world from different perspectives. Working for a learning disability charity before and after university resulted in Bridget pursuing a career in health care. After qualifying as Occupational Therapist, Bridget worked for the NHS for 10 years in mental health and learning disability. Meeting Patrick and Trudy inspired Bridget to create this picture book to share their story and unique, joyful perspective on the world.
The venue
The Portobello Bookshop
46 Portobello High Street
Edinburgh
EH15 1DA
Telephone: 0131 629 6756
Website: www.theportobellobookshop.com
---
Wheelchair Access
We have a ramp at the front of the shop which has a ratio of 1:10 and loading capacity of 300kg, and so should be able to be used by most wheelchair users or those with mobility vehicles. The front doors are fully automated. Our shop interior is designed to allow access throughout for wheelchair users and prams, though please note there is only 700mm wide clearance to access the staff toilet.

Sound
We use a PA system to enhance the audio at our live events. We also have a hearing loop system installed, if you'd like to use our loop system during an event please let us know and we'll make sure we have it setup and connected to the live audio feed during the event. If you wish to attend an event and require BSL interpretation, please give us a few weeks notice and we'll do our best to arrange an interpreter.