This Book Event has already taken place
Diarmuid Hester - Nothing Ever Just Disappears
Seven Hidden Histories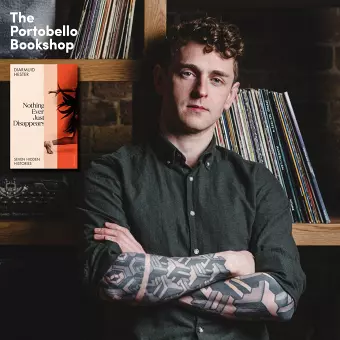 We are delighted that radical cultural historian, activist and author Dr Diarmuid Hester is coming to the bookshop for an event to celebrate the publication of his new book, Nothing Ever Just Disappears: Seven Hidden Histories. It's a book that our team have been looking forward to for quite some time, so join us for this special opportunity to hear from Hester himself! He'll be in conversation with fellow writer Katie Goh.
In this diligent, carefully argued book, Dr Diarmuid Hester asserts the centrality of spaces in the history of queer culture. The seven subjects of the book's chapters testify to the ways that location can shape the course of a queer life, whether they offer liberation, in the case of Josephine Baker's Paris, or the opposite, in that of Claude Cahun's Nazi-occupied Jersey. Hester mixes textual analysis with touches of memoir and theory, but it's the way that Hester treats the biographies of his subjects that impresses most.
This event will take place in the bookshop with an in-person audience. There will be a signing after the event.
In-person vouchers can be redeemed on the night of the event against a single copy of Nothing Ever Just Disappears – we will have a list of attendees with vouchers to be redeemed. Please note that only one voucher can be redeemed per book.
Please note that tickets for our events are non-refundable. Thank you for your understanding.
Participants:
Diarmuid Hester Author
Dr Diarmuid Hester is a radical cultural historian, writer, and activist. An expert on sexually dissident literature, art, film and performance, he is the author of the critically acclaimed Wrong: A Critical Biography of Dennis Cooper. He is a research associate of Emmanuel College, Cambridge, a fellow of the Eccles Centre for American Studies at the British Library and a BBC New Generation Thinker. He teaches at the Faculty of English, University of Cambridge, and co-founded the city's queer performance and music night Club Urania.
Katie Goh Chair
Katie Goh is a writer and editor, whose award-shortlisted criticism, essays and reporting on the arts have been published in The Guardian, Vice, Prospect, i-D, Dazed, the Independent and others. Katie is the nonfiction editor for Extra Teeth and has previously been an editor for gal-dem and The Skinny. Katie's essay-length book The End: Surviving the World Through Imagined Disasters was published by 404 Ink in 2021, and her debut book of nonfiction Foreign Fruit will be published by Canongate in 2025.
The venue
The Portobello Bookshop
46 Portobello High Street
Edinburgh
EH15 1DA
Telephone: 0131 629 6756
Website: www.theportobellobookshop.com
---
Wheelchair Access
We have a ramp at the front of the shop which has a ratio of 1:10 and loading capacity of 300kg, and so should be able to be used by most wheelchair users or those with mobility vehicles. The front doors are fully automated. Our shop interior is designed to allow access throughout for wheelchair users and prams, though please note there is only 700mm wide clearance to access the staff toilet.

Sound
We use a PA system to enhance the audio at our live events. We also have a hearing loop system installed, if you'd like to use our loop system during an event please let us know and we'll make sure we have it setup and connected to the live audio feed during the event. If you wish to attend an event and require BSL interpretation, please give us a few weeks notice and we'll do our best to arrange an interpreter.