This Book Event has already taken place - but you can
watch the replay
if you missed it
Doug Johnstone – The Opposite of Lonely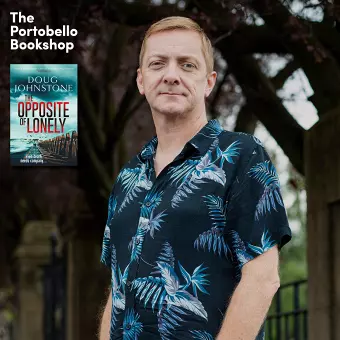 We are delighted to welcome Doug Johnstone back to the bookshop to launch The Opposite of Lonely, the hugely anticipated fifth instalment in his unforgettable, critically acclaimed Skelfs series. The Skelfs series has been shortlisted three times for the McIlvanney Prize for Best Scottish Crime Book of the Year and is a favourite amongst both our customers and booksellers. Doug will be in conversation with author Mary Paulson-Ellis.

This event will take place in the bookshop with an in-person audience, as well as a livestream for attendees watching from home. There will be a signing after the event.
In-person vouchers can be redeemed on the night of the event against a single copy of The Opposite of Lonely – we will have a list of attendees with vouchers to be redeemed. Please note that only one voucher can be redeemed per book. Livestream vouchers are valid until the day after the event and can be redeemed on our website against a single copy of The Opposite of Lonely.

About The Opposite of Lonely:

The Skelf women are recovering from the cataclysmic events that nearly claimed their lives. Their funeral-director and private-investigation businesses are back on track, and their cases are as perplexing as ever.

Matriarch Dorothy looks into a suspicious fire at a travellers' site, and takes a grieving, homeless man under her wing. Daughter Jenny is searching for her missing sister-in-law, who disappeared in tragic circumstances, while grand-daughter Hannah is asked to investigate increasingly dangerous conspiracy theorists, who are targeting a retired female astronaut ... putting her own life at risk.

With a body lost at sea, funerals for those with no one to mourn them, reports of strange happenings in outer space, a funeral crasher with a painful secret, and a violent attack on one of the family, The Skelfs face their most personal – and perilous – cases yet. Doing things their way may cost them everything...
Please note: Tickets for our events are non-refundable. Professional photography and videography may take place during this event. Thank you for your understanding.
Participants:
Doug Johnstone Author
Doug Johnstone is the author of sixteen novels, many of which have been bestsellers. The Space Between Us was chosen for BBC Two's Between the Covers, while Black Hearts and The Big Chill were longlisted for the Theakston Crime Novel of the Year. Three of his books – A Dark Matter, Breakers and The Jump – have been shortlisted for the McIlvanney Prize. Doug has taught creative writing or been writer in residence at universities, schools, writing retreats, festivals, prisons and a funeral home. He's also been an arts journalist for 25 years. He is a songwriter and musician with six albums and three EPs released, and he plays drums for the Fun Lovin' Crime Writers, a band of crime writers. He's also co-founder of the Scotland Writers Football Club and lives in Edinburgh with his family.
Mary Paulson-Ellis Chair
Mary Paulson-Ellis is an award-winning novelist writing across the boundaries of crime, historical and literary fiction. Her debut, The Other Mrs Walker was a Times bestseller and Waterstones Scottish Book of the Year. Mary's work has featured in the Guardian and on BBC Radio 4 and in 2019 Val McDermid named her one of ten exciting LGBTQ+ writers working today. In 2023 she was appointed Dr Gavin Wallace Fellow by Edinburgh Unesco City of Literature for work on a new book about the city. Emily Noble's Disgrace is her third novel.
The venue
The Portobello Bookshop
46 Portobello High Street
Edinburgh
EH15 1DA
Telephone: 0131 629 6756
Website: www.theportobellobookshop.com
---
Wheelchair Access
We have a ramp at the front of the shop which has a ratio of 1:10 and loading capacity of 300kg, and so should be able to be used by most wheelchair users or those with mobility vehicles. The front doors are fully automated. Our shop interior is designed to allow access throughout for wheelchair users and prams, though please note there is only 700mm wide clearance to access the staff toilet.

Sound
We use a PA system to enhance the audio at our live events. We also have a hearing loop system installed, if you'd like to use our loop system during an event please let us know and we'll make sure we have it setup and connected to the live audio feed during the event. If you wish to attend an event and require BSL interpretation, please give us a few weeks notice and we'll do our best to arrange an interpreter.