This Book Event has already taken place
Doug Johnstone – The Space Between Us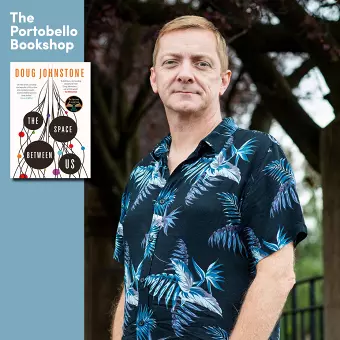 We're delighted to be welcoming Doug Johnstone back to the bookshop for the launch of his upcoming sci-fi novel, The Space Between Us. Based in Portobello, Doug is a great friend of the bookshop and his launches are always hugely entertaining, as you will know if you have joined us for one of his previous events! Doug will be in conversation with Ann Landmann, founder and director of Cymera: Scotland's Festival of Sci-Fi, Fantasy & Horror Writing.
This event will take place in the bookshop with an in-person audience, as well as a livestream for attendees watching from home. There will be a signing after the event.
In-person vouchers can be redeemed on the night of the event against a copy of The Space Between Us – we will have a list of attendees with vouchers to be redeemed. Please note that only one voucher can be redeemed per book. Livestream vouchers are valid until the day after the event and can be redeemed on the website against a copy of The Space Between Us.
About The Space Between Us:
When three people suffer strokes after seeing dazzling lights over Edinburgh, then awake completely recovered, they're convinced their ordeal is connected to the alien creature discovered on a nearby beach… an adrenaline-soaked, deeply humane, life-affirming first-contact novel from one of Scotland's most revered authors…
Lennox is a troubled teenager with no family. Ava is eight months pregnant and fleeing her abusive husband. Heather is a grieving mother and cancer sufferer. They don't know each other, but when a meteor streaks over Edinburgh, all three suffer instant, catastrophic strokes…
…only to wake up the following day in hospital, miraculously recovered.
When news reaches them of an octopus-like creature washed up on the shore near where the meteor came to earth, Lennox senses that some extra-terrestrial force is at play. With the help of Ava, Heather and a journalist, Ewan, he rescues the creature they call 'Sandy' and goes on the run.
But they aren't the only ones with an interest in the alien … close behind are Ava's husband, the police and a government unit who wants to capture the creature, at all costs. And Sandy's arrival may have implications beyond anything anyone could imagine…
Participants:
Doug Johnstone Author
Doug Johnstone is the author of fourteen previous novels, most recently Black Hearts (2022). The Big Chill (2020) was longlisted for the Theakston Old Peculier Crime Novel of the Year and three of his books, A Dark Matter (2020), Breakers (2019) and The Jump (2015), have been shortlisted for the McIlvanney Prize for Scottish Crime Book of the Year. He's taught creative writing and been writer in residence at various institutions over the last decade, and has been an arts journalist for over twenty years. Doug is a songwriter and musician with six albums and three EPs released, and he plays drums for the Fun Lovin' Crime Writers, a band of writers. He's also co-founder of the Scotland Writers Football Club, and has a PhD in nuclear physics. The Space Between Us is Doug's first foray into science fiction.
Ann Landmann Chair
Growing up in East Germany on a steady diet of Grimms and Russian Fairy Tales until falling under the thrall of Tolkien and Pratchett in her teens, it is little surprising that Ann Landmann is now the founder and director of Cymera: Scotland's Festival of Science Fiction, Fantasy and Horror Writing. Some might say it's a cunning ploy to feed her addiction to those genres. In her spare time she sells books for one of Scotland's publishers and moonlights at other people's book festivals.
The venue
The Portobello Bookshop
46 Portobello High Street
Edinburgh
EH15 1DA
Telephone: 0131 629 6756
Website: www.theportobellobookshop.com
---
Wheelchair Access
We have a ramp at the front of the shop which has a ratio of 1:10 and loading capacity of 300kg, and so should be able to be used by most wheelchair users or those with mobility vehicles. The front doors are fully automated. Our shop interior is designed to allow access throughout for wheelchair users and prams, though please note there is only 700mm wide clearance to access the staff toilet.

Sound
We use a PA system to enhance the audio at our live events. We also have a hearing loop system installed, if you'd like to use our loop system during an event please let us know and we'll make sure we have it setup and connected to the live audio feed during the event. If you wish to attend an event and require BSL interpretation, please give us a few weeks notice and we'll do our best to arrange an interpreter.