This Book Event has already taken place - but you can
watch the replay
if you missed it
Elizabeth Day – Friendaholic
Confessions of a Friendship Addict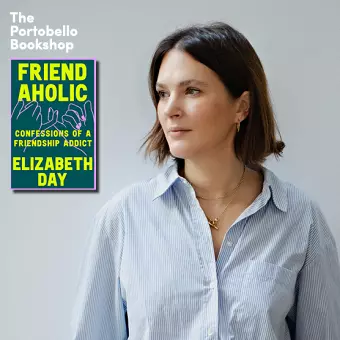 Doors open at 7pm.
We are so delighted to be welcoming Elizabeth Day to Edinburgh to celebrate her new book, Friendaholic: Confessions of a Friendship Addict. Her hit podcast, How to Fail, as well as her numerous bestselling books have found legions of fans on the topic of failure but in this event, she'll discuss her attempts to answer the question: why is it so hard to talk about friendship? Exploring her own personal experiences with friendships, from ghosting and frenemies to social media and seismic life events, this is going to be a brilliant conversation with Nicola Meighan.
Please note that this event will take place in The Pleasance Theatre in Edinburgh. Tickets do not include a copy of the book.
Copies of Friendaholic will be on sale at the venue on the night and there will be a book signing after the conversation.
About Friendaholic: Confessions of a Friendship Addict:
As a society, there is a tendency to elevate romantic love. But what about friendships? Aren't they just as – if not more – important? So why is it hard to find the right words to express what these uniquely complex bonds mean to us? In Friendaholic: Confessions of a Friendship Addict, Elizabeth Day embarks on a journey to answer these questions.
Growing up, Elizabeth wanted to make everyone like her. Lacking friends at school, she grew up to believe that quantity equalled quality. Having lots of friends meant you were loved, popular and safe. She was determined to become a Good Friend. And, in many ways, she did. But in adulthood she slowly realised that it was often to the detriment of her own boundaries and mental health.
Then, when a global pandemic hit in 2020, she was one of many who were forced to reassess what friendship really meant to them – with the crisis came a dawning realisation: her truest friends were not always the ones she had been spending most time with. Why was this? Could she rebalance it? Was there such thing as…too many friends? And was she really the friend she thought she was?
Friendaholic unpacks the significance and evolution of friendship. From exploring her own personal friendships and the distinct importance of each of them in her life, to the unique and powerful insights of others across the globe, Elizabeth asks why there isn't yet a language that can express its crucial influence on our world.
From ghosting and frenemies to social media and seismic life events, Elizabeth leaves no stone unturned. Friendaholic is the book you buy for the people you love but it's also the book you read to become a better friend to yourself.
Please note that tickets for our events are non-refundable. Thank you for your understanding.
Participants:
Elizabeth Day Author
Elizabeth Day is the author of four novels and Sunday Times bestelling memoir, How to Fail. Her acclaimed debut Scissors, Paper, Stone won a Betty Trask Award and Home Fires was an Observer book of the year. Her third, Paradise City, was named one of the best novels of 2015 in the Evening Standard, and The Party was an Amazon bestseller and a Richard & Judy bookclub pick. She is also an award-winning journalist and has written extensively for The Times, the Telegraph, the Guardian, the Observer, Harper's Bazaar and Elle. She is currently a columnist for the Mail on Sunday's You magazine and host of the iTunes chart-topping podcast, How To Fail With Elizabeth Day.
Nicola Meighan Chair
Nicola Meighan is a freelance arts journalist and broadcaster based in Scotland. She presents BBC Radio Scotland's culture programme The Afternoon Show every Friday, 2-4pm; interviews musicians, actors and authors for STV's What's On Scotland television series; and has written for The Herald, Mojo, Q, The List and The Quietus, among others.
The venue
Pleasance Theatre
60 Pleasance
Edinburgh
EH8 9TJ
Telephone: 0131 650 2351
Website: www.eusa.ed.ac.uk/home
---
The venue is on the first floor, accessible by stairs or lift.