This Book Event has already taken place
Granta 157: Should We Have Stayed at Home? An Evening of New Travel Writing
On: 18th November 2021, 7:00pm - 8:00pm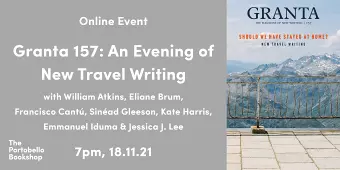 We're delighted to be teaming up with Granta Magazine for an online event with several contributors from their latest New Travel Writing issue which poses the question, Should We Have Stayed at Home? The event will feature conversations between Guest Editor of Granta 157, William Atkins, and writers including Eliane Brum, Francisco Cantú, Sinéad Gleeson, Kate Harris, Emmanuel Iduma and Jessica J. Lee. The event will take place online with all participants joining us from their homes via Crowdcast.
Granta 157: Should We Have Stayed at Home? New Travel Writing
From Antarctica and the deserts of the US-Mexico border, to a Siberian whale-killing station and the alleyways of Taipei, these dispatches describe a world in perpetual motion (even when it is 'locked-down'). To travel, we are reminded, is to embrace the experience of being a stranger – to acknowledge that one person's frontier is another's home.
In 1984 Granta published its first issue devoted to travel writing. Nearly forty years after that genre-defining volume, a new generation of writers from around the globe offers a new vision of what travel writing can be.
William Atkins's The Immeasurable World won the 2018 Stanford Dolman Travel Book of the Year award; his new book, Exiles: Three Island Journeys, will be published by Faber in May 2022.
Eliane Brum is a Brazilian writer, journalist and documentary film-maker. She is the author of eight non-fiction books, including The Collector of Leftover Souls, as well as the novel One Two. She has been awarded more than forty national and international journalism prizes, and has a regular column in El País.
Francisco Cantú is the author of The Line Becomes a River, winner of the 2018 Los Angeles Times Book Prize and a finalist for the National Book Critics Circle Award in non-fiction. His writing and translations have been featured in the New Yorker, Best American Essays, Harper's and VQR, as well as on This American Life. A lifelong resident of the Southwest, he now lives in Tucson and coordinates the Field Studies in Writing program at the University of Arizona.
Sinéad Gleeson is the author of the award-winning essay collection Constellations, and has edited four anthologies of Irish short stories. She is currently working on a novel, and a forthcoming book of essays about music by women.
Kate Harris lives off-grid in a cabin in northern British Columbia. She is the author of Lands of Lost Borders: A Journey on the Silk Road.
Emmanuel Iduma is the author of A Stranger's Pose, a book of travel stories which was longlisted for the RSL Ondaatje Prize. His essays and art criticism have been published in the New York Review of Books, Aperture, Artforum and Art in America. I Am Still With You, his memoir on the aftermath of the Nigerian Civil War, is forthcoming from William Collins.
Jessica J. Lee is an author, environmental historian and winner of the Hilary Weston Writers' Trust Prize for Nonfiction, the Boardman Tasker Award for Mountain Literature and the RBC Taylor Prize Emerging Writer Award. She has written two books of nature writing: Turning and Two Trees Make a Forest. Jessica is the founding editor of the Willowherb Review and is a researcher at the University of Cambridge.
You can sign up by purchasing one of the options below, all of which include access to the online event.
Especially for this event, we're offering an option to make a £3 donation to Refugee Survival Trust. They support refugees and asylum seekers in Scotland to find a route out of poverty and to connect with other people in the community. For more information about the work they do, click here.
The venue
The Portobello Bookshop
46 Portobello High Street
Edinburgh
EH15 1DA
Telephone: 0131 629 6756
Website: www.theportobellobookshop.com
---
Wheelchair Access
We have a ramp at the front of the shop which has a ratio of 1:10 and loading capacity of 300kg, and so should be able to be used by most wheelchair users or those with mobility vehicles. The front doors are fully automated. Our shop interior is designed to allow access throughout for wheelchair users and prams, though please note there is only 700mm wide clearance to access the staff toilet.

Sound
We use a PA system to enhance the audio at our live events. We also have a hearing loop system installed, if you'd like to use our loop system during an event please let us know and we'll make sure we have it setup and connected to the live audio feed during the event. If you wish to attend an event and require BSL interpretation, please give us a few weeks notice and we'll do our best to arrange an interpreter.