This Book Event has already taken place - but you can
watch the replay
if you missed it
Harriet Gibsone – Is This OK?
One Woman's Search For Connection Online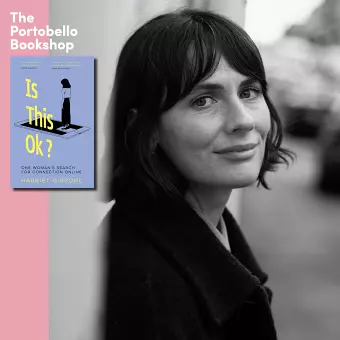 We're looking forward to welcoming Harriet Gibsone to the bookshop for an event to celebrate her upcoming memoir, Is This OK? This painfully hilarious book follows the author as she navigates the internet in search of connection. Harriet will be in conversation with fellow writer Anahit Behrooz.
This event will take place in the bookshop with an in-person audience, as well as a livestream for attendees watching from home. There will be a signing after the event.
In-person vouchers can be redeemed on the night of the event against a single copy of Is This OK? – we will have a list of attendees with vouchers to be redeemed. Please note that only one voucher can be redeemed per book. Livestream vouchers are valid until the day after the event and can be redeemed on the website against a single copy of Is This OK?.
About Is This OK?
Music journalist, self-professed creep and former winner of the coveted 'Fittest Girl in Year 11' award, Harriet Gibsone lives in fear of her internet searches being leaked.
Until a diagnosis of early onset menopause in her late twenties, Harriet spent much of her young life feeding neuroses and insecurities with obsessive internet searching (including compulsive googling of exes, prospective partners, and their exes), and indulging in whirlwind 'parasocial relationships' (translation: one-sided affairs with celebrities she has never met).
Suddenly staring down years of IVF, HRT and other invasive medical treatments, her relationship with the internet takes a darker turn, as her online addictions are thrown into sharp relief by the corporeal realities of illness and motherhood.
An outrageously funny, raw and painfully honest account of trying to find connection in the age of the internet, Is This Ok? is the launch of an exciting new comic voice.

Please note that tickets for our events are non-refundable. Thank you for your understanding.
Participants:
Harriet Gibsone Author
Former Guardian culture writer Harriet Gibsone began her career as a runner for MTV, before becoming a music journalist in the 00s, writing for publications such as Q, NME, Time Out and Nylon. She spent eight years as a Guardian staff writer and editor and now has a column for its weekend magazine. Her memoir Is This OK? is published in 2023.
Anahit Behrooz Chair
Anahit Behrooz is a writer, editor and critic based in Edinburgh. She is the author of BFFs: The Radical Potential of Female Friendship and works as Books Editor and Events Editor at The Skinny. Her writing has appeared in the likes of AnOther Magazine, Little White Lies, gal-dem and Girls on Tops among others.
The venue
The Portobello Bookshop
46 Portobello High Street
Edinburgh
EH15 1DA
Telephone: 0131 629 6756
Website: www.theportobellobookshop.com
---
Wheelchair Access
We have a ramp at the front of the shop which has a ratio of 1:10 and loading capacity of 300kg, and so should be able to be used by most wheelchair users or those with mobility vehicles. The front doors are fully automated. Our shop interior is designed to allow access throughout for wheelchair users and prams, though please note there is only 700mm wide clearance to access the staff toilet.

Sound
We use a PA system to enhance the audio at our live events. We also have a hearing loop system installed, if you'd like to use our loop system during an event please let us know and we'll make sure we have it setup and connected to the live audio feed during the event. If you wish to attend an event and require BSL interpretation, please give us a few weeks notice and we'll do our best to arrange an interpreter.