This Book Event has already taken place
Book Signing with Jenny Colgan
The Summer Skies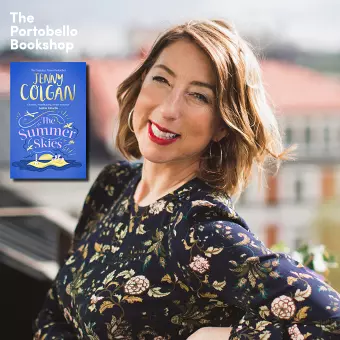 Join us this Independent Bookshop Week to meet bestselling author Jenny Colgan when she visits the bookshop to sign copies of her brand new novel, The Summer Skies.
This is a public event and no ticket purchase is necessary to attend – do feel free to drop by on the day to get a chance to chat with Jenny and get your books signed!
If you would like to purchase a copy of The Summer Skies to get signed on the day, you can select the above ticket option, and we will have it ready for collection at the signing.

If you would like to order a signed & dedicated edition of The Summer Skies but are unable to make it to the signing, you can do so here.
About The Summer Skies:
Born into a family of successful pilots, Morag is used to flying high.

But when a tragic accident above the clouds grounds her, could the future she'd always imagined be suddenly out of reach?When she receives a call telling her that her beloved grandfather has been taken ill, Morag leaves her fast-paced life in London to return home to the tranquil Scottish Highlands. With her grandfather out of action, Morag has no choice but to take over flying the local route in his rickety old plane, ferrying locals across the beautiful islands of the archipelago. But as the weather takes a dramatic turn, Morag is forced to crash-land on a remote island and suddenly finds herself far from civilisation and all alone.

Then she discovers Gregor, the gruff and reclusive ornithologist taking care of the island for the season. Though the pair don't see eye to eye, Morag is forced to seek shelter at his cabin and it seems the pair are stuck together until help arrives. However long that may be...
As she awaits rescue, might Morag discover that a remote Scottish island, cut off from real-life, is exactly the place she needs to be?
Please note that tickets for our events are non-refundable. Thank you for your understanding.
Participants:
Jenny Colgan Author
Jenny Colgan is the author of numerous Sunday Times bestselling novels and has won various awards for her writing, including the Melissa Nathan Award for Comedy Romance, the RNA Romantic Novel of the Year Award and the RNA Romantic Comedy Novel of the Year Award. Her books have sold more than five million copies worldwide and in 2015 she was inducted into the Love Stories Hall of Fame. Jenny is married with three children and lives in Scotland. For more about Jenny, visit her website and her Facebook page, or follow her on Twitter and Instagram. Twitter: @jennycolgan Facebook: jennycolganbooks Instagram: jennycolganbooks
The venue
The Portobello Bookshop
46 Portobello High Street
Edinburgh
EH15 1DA
Telephone: 0131 629 6756
Website: www.theportobellobookshop.com
---
Wheelchair Access
We have a ramp at the front of the shop which has a ratio of 1:10 and loading capacity of 300kg, and so should be able to be used by most wheelchair users or those with mobility vehicles. The front doors are fully automated. Our shop interior is designed to allow access throughout for wheelchair users and prams, though please note there is only 700mm wide clearance to access the staff toilet.

Sound
We use a PA system to enhance the audio at our live events. We also have a hearing loop system installed, if you'd like to use our loop system during an event please let us know and we'll make sure we have it setup and connected to the live audio feed during the event. If you wish to attend an event and require BSL interpretation, please give us a few weeks notice and we'll do our best to arrange an interpreter.