This Book Event has already taken place
Kae Tempest – Divisible by Itself and One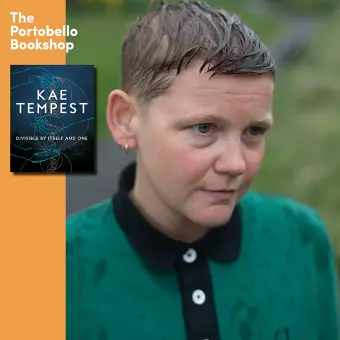 Doors open at 7pm.
We couldn't be happier to be hosting an event with Kae Tempest to celebrate their new collection, Divisible by Itself and One. Getting to welcome Tempest to the bookshop last August was a highlight for many of us on the team as well as those who attended in person and online, and this event will be another not to be missed. During the hour-long event, Tempest will be reading and performing some of their new work from Divisible by Itself and One.
Please note that this event will take place at the Assembly Rooms on George Street in Edinburgh.
If you choose the Book & In-Person option, this will include a signed-only copy of Divisible by Itself and One which can be collected from the venue on the night of the event. A limited amount of signed copies of Divisible by Itself and One will be on sale at the venue on the night, while stocks last, and unsigned copies will also be available at the book stall. There will not be a book signing after the performance.
There will not be a livestream of this event. Please note that professional photography may be taking place at the venue on the night.
About Divisible by Itself and One:
I want to sing you early songs. Go deeper.
I want to take you back where you began,
Find the scraps of you you hid in secret
And bring them back to life beneath my tongue.

Divisible by Itself and One is the powerful new collection from our foremost truth-teller Kae Tempest. Ruminative, wise, with a newer, more contemplative and metaphysical note running through, it is a book engaged with the big questions and the emotional states in which we live and create. Some of the poems experiment with form, some are free, and yet all are politically and morally conscious. Divisible by Itself and One is also a book about human form, the body as boundary and how we are read by the world.

Taking its bearings – and title – from the prime number, Divisible by Itself and One is concerned, ultimately, with integrity: how to live in honest relationship with oneself and others.
Please note that tickets for our events are non-refundable. Thank you for your understanding.
Participants:
Kae Tempest Author
Kae Tempest is a poet. They are also a writer, a lyricist, a performer and a recording artist. They have published plays, poems, a novel and a book-length essay, released albums and toured extensively, selling out shows from Reykjavik to Rio de Janeiro.

They received Mercury Music Prize nominations for both of the albums Everybody Down and Let Them Eat Chaos, and two Ivor Novello nominations for their song-writing on The Book of Traps and Lessons. They were named a Next Generation Poet in 2014, a once-in-a-decade accolade. Tempest also received the Ted Hughes Award for their long-form narrative poem Brand New Ancients and the Leone D'Argento at the Venice Teatro Biennale for their work as a playwright.

Their books have been translated into eleven languages and published to critical acclaim around the world. They were born in London in 1985, where they still live. They hope to continue putting words together for a long time.