This Book Event has already taken place
Lucie McKnight Hardy & Anna Cheung – Click to access replay
On:2nd November 2021, 7:00pm - 8:00pm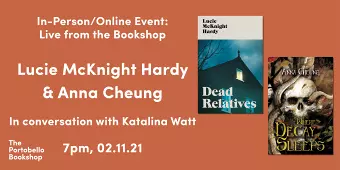 This event was hosted on Tuesday 2nd November.
Join us in welcoming Lucie McKnight Hardy and Anna Cheung to the bookshop for a ~spooktacular~ event to celebrate their newly released books. McKnight Hardy's short story collection, Dead Relatives, was published by Dead Ink Books on 1st October. Cheung's debut poetry collection, Where Decay Sleeps, will be published by Haunt Publishing on 28th October. They will both be in conversation with Edinburgh-based author and publisher, Katalina Watt.
We are planning for this event to take place in the bookshop with a small in-person audience, as well as a livestream for attendees watching from home. However, depending on COVID regulations at the time of the event, those purchasing any of the in-person audience options will also receive the link to watch the event from home, should we be unable to welcome people to the bookshop on the night. Following Scottish Government advice and guidelines, in-person audience attendees will be asked to wear a face covering inside the bookshop unless they are exempt.
Lucie McKnight Hardy grew up in West Wales and is a Welsh speaker. Her debut novel, Water Shall Refuse Them, was published by Dead Ink Books in 2019. She has an MA in creative writing from Manchester Metropolitan University, and has worked in the advertising, marketing and public relations industries. She lives in Herefordshire with her husband and three children.
Anna Cheung is a poet based in Glasgow, Scotland. Her poetry has been published in Dark Eclipse and Dusk and Shiver, and Dreich Magazine, among other publications. Her poem 'Survival of Solitude' was included in From Them, To You, an illustrated book by the Royal Conservatoire of Scotland (published by Speculative Books) gifted to breast cancer patients in the UK to help improve women's body confidence and mental health. Aside from poetry, she has written reviews for Bearded Magazine and Musicovered.
Katalina Watt is an Edinburgh-based author and publisher. Her work has been published in Haunted Voices, Unspeakable, Ceremony, Extra Teeth, Cunning Folk, and Malefaction. She was Longlisted for Penguin Random House UK's 2020 WriteNow programme and received a 2021 Writers Grant from Ladies of Horror Fiction. She has appeared at numerous international literary festivals and events including FIYAHCON, Edinburgh International Book Festival, and Cymera. She previously worked in Audio and Digital publishing and was Literature Alliance Scotland's 2020 Next Level Awardee. She is currently Literature Officer at Creative Scotland and Audio Director for khōréō, a speculative fiction magazine for immigrant and diaspora authors.
There are several in-person and livestream options below. For the in-person event, there is a 'Two Books & Event Bundle' available, which includes both books with a discount. Whether you are interested in attending the in-person event or watching the livestream from home, there are options to purchase Dead Relatives and Where Decay Sleeps. Please consider supporting the bookshop by purchasing a book or voucher; however we are also offering a Free Ticket option for this event.
The venue
The Portobello Bookshop
46 Portobello High Street
Edinburgh
EH15 1DA
Telephone: 0131 629 6756
Website: www.theportobellobookshop.com
---
Wheelchair Access
We have a ramp at the front of the shop which has a ratio of 1:10 and loading capacity of 300kg, and so should be able to be used by most wheelchair users or those with mobility vehicles. The front doors are fully automated. Our shop interior is designed to allow access throughout for wheelchair users and prams, though please note there is only 700mm wide clearance to access the staff toilet.

Sound
We use a PA system to enhance the audio at our live events. We also have a hearing loop system installed, if you'd like to use our loop system during an event please let us know and we'll make sure we have it setup and connected to the live audio feed during the event. If you wish to attend an event and require BSL interpretation, please give us a few weeks notice and we'll do our best to arrange an interpreter.