This Book Event has already taken place
Malachy Tallack – Illuminated by Water
On: 7th July 2022, 7:00pm - 8:00pm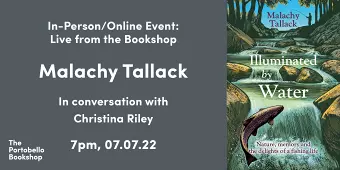 We're so excited to welcome Malachy Tallack to the bookshop for the publication day launch of his new book, Illuminated by Water: Nature, Memory and the delights of a fishing life, especially given our building's history as a fishing tackle shop. He will be in conversation with artist and writer, Christina Riley.
We are planning for this event to take place in the bookshop with an in-person audience, as well as a livestream for attendees watching from home. On the night of the event, our team will be wearing masks.
Please note that vouchers purchased for this event can be used on any item in the bookshop and on our website – including books by featured authors. Please consider supporting the bookshop by purchasing a book or voucher.
About Illuminated by Water: Nature, Memory and the delights of a fishing life:
Acclaimed travel-writer, novelist and singer-songwriter Malachy Tallack combines memoir, nature writing and reflections on culture and history in a beautifully written exploration of - and meditation on - fishing, and conveys why this uniquely solitary pastime is a passion for so many…
Tallack has been passionate about fishing since he was young. Growing up in Shetland, with its myriad lochs, he and his  brother would roam the island in search of trout, and in so doing discovered a sense of freedom, of wonder, and an abiding passion.
But why is it that catching a fish - or simply contemplating catching a fish - can be so thrilling, so captivating?
Why is it that time spent beside water can be imprinted so sharply in the memory?
Why is it that what seems such a simple act - that of casting a line and hoping - can feel so rich in mystery?
Illuminated by Water is Malachy's personal attempt to understand that freedom, and to trace the origins and sources of that sense of wonder. He shares the appeal of fishing, its intense joys and frustrations, the steadying effect it has both at water's edge and in the memory, and the contemplation of nature and landscape that comes with being an angler. He writes about fishing expeditions, from English canals and Scottish lochs to lakes in Canada and New Zealand, and he reflects on other aspects of angling, from its cultural significance and the emerging moral complexities to the intricacies of tying a fly.
Beautifully written and hugely engaging, this book both articulates the inexplicable lure of the river and the endless desire to return to it, and illuminates a passion that has shaped the way so many see and think about the natural world.
Malachy Tallack is the award-winning author of three books. His first, Sixty Degree North (2015) was a BBC Radio 4 Book of the Week and short-listed for the Saltire First Book Award. His second, The Un-Discovered Islands (2016), was Stanford Travel Writing Awards' Illustrated Book of the Year, while his debut novel, The Valley at the Centre of the World, was shortlisted for the Highland Book Prize and longlisted for the Royal Society of Literature Ondaatje Prize. He received a New Writers Award from the Scottish Book Trust in 2014, and the Robert Louis Stevenson Fellowship in 2015. He is a founding editor of online magazine The Island Review and, as a singer-songwriter, he has released four albums and an EP, and performed across the UK. Malachy Tallack grew up in Shetland and currently lives in central Scotland.
Christina Riley is an artist and writer based in Ayrshire. Born in Miami and inspired by the essential connections between art, literature and science, her work draws attention to the natural world with a particular focus on the Atlantic coasts of Scotland and North America. Christina's essays have been published by Little Toller's The Clearing, Caught by the River, Elsewhere, Minding Nature, Gold Flake Paint and others, and her book The Beach Today—a photographic diary documenting marine objects collected over three months of daily beach walks in spring 2020—was published by Guillemot Press in summer 2021. Christina was longlisted for the 2019 Nan Shepherd Prize for Nature Writing, before later that year starting The Nature Library, a travelling library bringing books about nature and the environment to public spaces. She is currently exploring works which focus on women's lives by the coast and the role of literature in times of climate crisis.
The venue
The Portobello Bookshop
46 Portobello High Street
Edinburgh
EH15 1DA
Telephone: 0131 629 6756
Website: www.theportobellobookshop.com
---
Wheelchair Access
We have a ramp at the front of the shop which has a ratio of 1:10 and loading capacity of 300kg, and so should be able to be used by most wheelchair users or those with mobility vehicles. The front doors are fully automated. Our shop interior is designed to allow access throughout for wheelchair users and prams, though please note there is only 700mm wide clearance to access the staff toilet.

Sound
We use a PA system to enhance the audio at our live events. We also have a hearing loop system installed, if you'd like to use our loop system during an event please let us know and we'll make sure we have it setup and connected to the live audio feed during the event. If you wish to attend an event and require BSL interpretation, please give us a few weeks notice and we'll do our best to arrange an interpreter.