This Book Event has already taken place - but you can
watch the replay
if you missed it
T. L. Huchu - The Mystery at Dunvegan Castle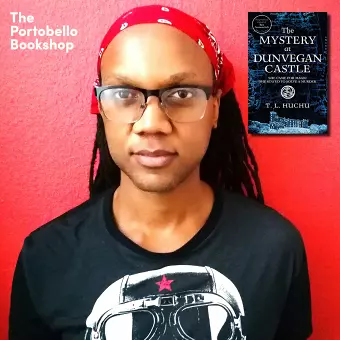 We're thrilled to be welcoming back T. L. Huchu to the bookshop to launch the third book in the spellbinding Edinburgh Nights series, The Mystery at Dunvegan Castle! Leaving behind the shadowy and spellbinding Edinburgh of the previous books, Huchu brings us to Skye for another adventure with Ropa Moyo, magician-in-training. He will be in conversation with the founder of Cymera Festival, Ann Landmann.
This event will take place in the bookshop with an in-person audience, as well as a livestream for attendees watching from home. There will be a signing after the event.
In-person vouchers can be redeemed on the night of the event against a single copy of The Mystery at Dunvegan Castle – we will have a list of attendees with vouchers to be redeemed. Please note that only one voucher can be redeemed per book. Livestream vouchers are valid until the day after the event and can be redeemed on the website against a single copy of The Mystery at Dunvegan Castle.
About The Mystery at Dunvegan Castle:
Ghostalker and magician-in-training Ropa Moyo is stoked to be attending an important magical convention. But her sleuthing skills will be put to the test when a magician is murdered. Suddenly, everyone is a suspect – and someone has betrayed their group . . .
Ropa Moyo is no stranger to magic or mysteries. But she's still stuck in an irksomely unpaid internship. So she's thrilled to attend a magical convention at Dunvegan Castle, on the Isle of Skye, where she'll rub elbows with eminent magicians.

For Ropa, it's the perfect opportunity to finally prove her worth. Then a librarian is murdered and a precious scroll stolen. Suddenly, every magician is a suspect, and Ropa and her allies investigate. Trapped in a castle, with suspicions mounting, Ropa must contend with corruption, skulduggery and power plays. Time to ask for a raise?
Please note that tickets for our events are non-refundable. Thank you for your understanding.
Participants:
T L Huchu Author
T.L. Huchu's work has appeared in 'Lightspeed', 'Interzone', 'Analog Science Fiction & Fact', 'The Year's Best Science Fiction and Fantasy 2021', 'Ellery Queen Mystery Magazine', 'Mystery Weekly', 'The Year's Best Crime and Mystery Stories 2016', and elsewhere. He is the winner of an Alex Award (2022), the Children's Africana Book Award (2021), a Nommo Award for African SFF (2022, 2017), and has been shortlisted for the Caine Prize (2014) and the Grand prix de l'Imaginaire (2019). "The Mystery at Dunvegan Castle", the third instalment in his Edinburgh Nights fantasy series, was published in July 2023. Find him @TendaiHuchu
Ann Landmann Chair
Growing up in East Germany on a steady diet of Grimms and Russian Fairy Tales until falling under the thrall of Tolkien and Pratchett in her teens, it is little surprising that Ann Landmann is now the founder and director of Cymera: Scotland's Festival of Science Fiction, Fantasy and Horror Writing. Some might say it's a cunning ploy to feed her addiction to those genres. In her spare time she sells books for one of Scotland's publishers and moonlights at other people's book festivals.
The venue
The Portobello Bookshop
46 Portobello High Street
Edinburgh
EH15 1DA
Telephone: 0131 629 6756
Website: www.theportobellobookshop.com
---
Wheelchair Access
We have a ramp at the front of the shop which has a ratio of 1:10 and loading capacity of 300kg, and so should be able to be used by most wheelchair users or those with mobility vehicles. The front doors are fully automated. Our shop interior is designed to allow access throughout for wheelchair users and prams, though please note there is only 700mm wide clearance to access the staff toilet.

Sound
We use a PA system to enhance the audio at our live events. We also have a hearing loop system installed, if you'd like to use our loop system during an event please let us know and we'll make sure we have it setup and connected to the live audio feed during the event. If you wish to attend an event and require BSL interpretation, please give us a few weeks notice and we'll do our best to arrange an interpreter.