This Book Event has already taken place
Tom Humberstone – Suzanne: The Jazz Age Goddess of Tennis
On:15th September 2022, 7:00pm - 8:00pm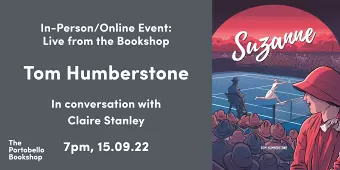 We're really looking forward to welcoming Tom Humberstone to the bookshop for a launch event to celebrate the publication of his stunning graphic novel, Suzanne: The Jazz Age Goddess of Tennis. He'll be in conversation with Claire Stanley from the Murray Musings podcast.
We are planning for this event to take place in the bookshop with an in-person audience, as well as a livestream for attendees watching from home.
In-person vouchers can be redeemed on the night of the event against anything in the bookshop – we will have a list of attendee vouchers at the ready. Livestream vouchers are valid until the day after the event and can be redeemed on the website against a copy of Suzanne: The Jazz Age Goddess of Tennis.
About Suzanne: The Jazz Age Goddess of Tennis:
One of the greatest tennis players the world has ever seen was a woman few even remember. A championship player by the age of fifteen in a Europe overshadowed by impending war, Suzanne Lenglen broke records for ticket sales and match winning streaks, scandalised and entranced the public with her playing outfits, and became a pioneer, making friends and enemies throughout restrictive tennis society in the trailblazing jazz age.
With stunning art and an astute eye, Suzanne explores how a figure both enormously influential and too-often overlooked battled her father's ambition, bias in sporting journalism, and her own divisive personality, to forge a new path ― and to change sport forever.
Tom Humberstone is an award-winning comic artist and illustrator based in Edinburgh. He writes and draws non-fiction comics for the Ignatz award-winning The Nib, as well as the New Statesman, Vox, Icon Books, Buzzfeed and others. His work has also appeared in Phonogram (Image Comics), Doctor Who (Titan) and the Eisner award-nominated Nelson (Blank Slate Books). He is the editor and publisher of the critically acclaimed UK comics anthology Solipsistic Pop and the co-editor of Over The Line: An Introduction to Poetry Comics.
Claire Stanley is a former journalist who now masquerades as a communications and public affairs specialist by day, and tennis podcaster by night. She makes up one third of Murray Musings – a podcast dedicated entirely to Andy Murray and his tennis journey. Ever the competitor, Claire's favourite thing about tennis is there always has to be a winner. You can follow her on twitter @brooksybradshaw if being spammed daily about her love for Andy Murray is high on your list of priorities.
Please note that tickets for our events are non-refundable. Thank you for your understanding.
The venue
The Portobello Bookshop
46 Portobello High Street
Edinburgh
EH15 1DA
Telephone: 0131 629 6756
Website: www.theportobellobookshop.com
---
Wheelchair Access
We have a ramp at the front of the shop which has a ratio of 1:10 and loading capacity of 300kg, and so should be able to be used by most wheelchair users or those with mobility vehicles. The front doors are fully automated. Our shop interior is designed to allow access throughout for wheelchair users and prams, though please note there is only 700mm wide clearance to access the staff toilet.

Sound
We use a PA system to enhance the audio at our live events. We also have a hearing loop system installed, if you'd like to use our loop system during an event please let us know and we'll make sure we have it setup and connected to the live audio feed during the event. If you wish to attend an event and require BSL interpretation, please give us a few weeks notice and we'll do our best to arrange an interpreter.