This Book Event has already taken place - but you can
watch the replay
if you missed it
V.E. Schwab – The Invisible Life of Addie LaRue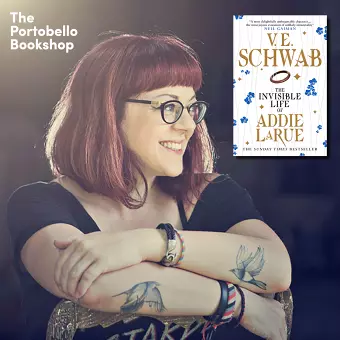 Doors open at 7pm. There will NOT be a signing on the night.
Signed copies of the book will be available to purchase on the night on a first come first serve basis. Or you can purchase a signed & dedicated Book + Ticket option and collect your signed & dedicated edition when arriving at the venue.
Please note professional photography will be taking place at this event.
Addie LaRue fans, this one's for you! We're so delighted to be hosting an event in the centre of Edinburgh with the one and only V.E. Schwab! Join us to celebrate the publication of the paperback edition of The Invisible Life of Addie LaRue.
Please note that this event will take place at the Assembly Roxy in the centre of Edinburgh.
About The Invisible Life of Addie LaRue:
When Addie LaRue makes a pact with the devil, she is convinced she's found a loophole-immortality in exchange for her soul. But the devil takes away her place in the world, cursing her to be forgotten by everyone.
Addie flees her tiny home town in 18th-Century France, beginning a journey that takes her across the world, learning to live a life where no one remembers her and everything she owns is lost and broken. Existing only as a muse for artists throughout history, she learns to fall in love anew every single day. Her only companion on this journey is her dark devil with hypnotic green eyes, who visits her each year on the anniversary of their deal.
Alone in the world, Addie has no choice but to confront him, to understand him, maybe to beat him. Until one day, in a second hand bookshop in Manhattan, Addie meets someone who remembers her. Suddenly thrust back into a real, normal life, Addie realises she can't escape her fate forever.
Please note that tickets for our events are non-refundable. Thank you for your understanding.
Participants:
VE Schwab Author
Victoria "V. E." Schwab is the #1 New York Times bestselling author of more than twenty books, including the acclaimed Shades of Magic series, the Villains series, the Cassidy Blake series and the international bestseller The Invisible Life of Addie LaRue. Her work has received critical acclaim, translated into over two dozen languages, and optioned for television and film. When not haunting Paris streets or trudging up English hillsides, she lives in Edinburgh, Scotland, and is usually tucked in the corner of a coffee shop, dreaming up monsters.
T L Huchu Chair
T.L. Huchu's work has appeared in 'Lightspeed', 'Interzone', 'Analog Science Fiction & Fact', 'The Year's Best Science Fiction and Fantasy 2021', 'Ellery Queen Mystery Magazine', 'Mystery Weekly', 'The Year's Best Crime and Mystery Stories 2016', and elsewhere. He is the winner of an Alex Award (2022), the Children's Africana Book Award (2021), a Nommo Award for African SFF (2022, 2017), and has been shortlisted for the Caine Prize (2014) and the Grand prix de l'Imaginaire (2019). "The Mystery at Dunvegan Castle", the third instalment in his Edinburgh Nights fantasy series, was published in July 2023. Find him @TendaiHuchu
The venue
Assembly Roxy
2 Roxburgh Place
Edinburgh
EH8 9SU
Telephone: 0131 623 3001
Website: assemblyfestival.com/roxy/about-assembly-roxy
---
Venue Accessibility: There is step-free access to the venue on arrival. There is also an accessible toilet located on the same floor with level access.