This Book Event has already taken place - but you can
watch the replay
if you missed it
Vicky Allan & Anna Deacon – The Ripple Effect
Britain's Brilliant Wild Swimming Communities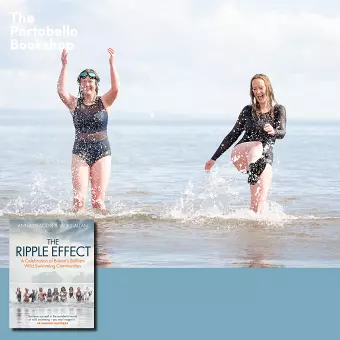 Join us for the launch of the new book by Vicky Allan and Anna Deacon, The Ripple Effect! They'll be diving into the stories of swimmers who have found and formed new communities since wild swimming has grown in popularity, including right here in Portobello where wild swimmers flock every morning no matter the weather!
This event will take place in the bookshop with an in-person audience, as well as a livestream for attendees watching from home. There will be a signing after the event.
In-person vouchers can be redeemed on the night of the event against a single copy of The Ripple Effect – we will have a list of attendees with vouchers to be redeemed. Please note that only one voucher can be redeemed per book. Livestream vouchers are valid until the day after the event and can be redeemed on the website against a single copy of The Ripple Effect.
About The Ripple Effect:
After the success of Taking the Plunge in 2019, Anna Deacon & Vicky Allan have seen wild swimming take off. From those who bathe in ice cold sunrise waters to wild swimmers under a moonlit sky, whether you like a dip in the buff, ice therapy or are on a mission to find like-minded people to share the experience of menopause, mental health issues and more, there is a community out there for everyone.
As they swim their way through the country, they find a ripple effect. Swimmers changing the world and transforming their own lives together. As they spread the joy of immersion they also unearth tips and tricks from the wild swimming community, from the best spots, to safety tips and most importantly, how to find your own wild tribe.
Please note that tickets for our events are non-refundable. Thank you for your understanding.
Participants:
Vicky Allan Author
Vicky Allan is an award-winning journalist and author. A staff writer for the Herald on Sunday, her work has also appeared in The Times, Daily Express, Vogue, GQ, The Guardian and Scotland on Sunday. She has won awards for her travel-writing, features writing and for her articles campaigning against violence against women. Her novel Stray is currently being adapted as a feature film.
Anna Deacon Author
Anna Deacon has worked as a photographer for over a decade, following a career in the music industry. Her photographic and written work has been published in magazines and newspapers including the Guardian, the Scotsman and Glamour. Her travel book Wild Guide Balearic Islands came out in 2022. She hosts the popular Instagram account @wildswimmingstories.
The venue
The Portobello Bookshop
46 Portobello High Street
Edinburgh
EH15 1DA
Telephone: 0131 629 6756
Website: www.theportobellobookshop.com
---
Wheelchair Access
We have a ramp at the front of the shop which has a ratio of 1:10 and loading capacity of 300kg, and so should be able to be used by most wheelchair users or those with mobility vehicles. The front doors are fully automated. Our shop interior is designed to allow access throughout for wheelchair users and prams, though please note there is only 700mm wide clearance to access the staff toilet.

Sound
We use a PA system to enhance the audio at our live events. We also have a hearing loop system installed, if you'd like to use our loop system during an event please let us know and we'll make sure we have it setup and connected to the live audio feed during the event. If you wish to attend an event and require BSL interpretation, please give us a few weeks notice and we'll do our best to arrange an interpreter.