This Book Event has already taken place
When Other People Saw Us, They Saw the Dead: A BIPOC Gothic Anthology
At: Online-only
On:10th May 2022, 7:00pm - 8:00pm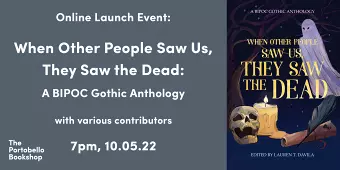 We're excited to be hosting the online launch of When Other People Saw Us, They Saw the Dead: A BIPOC Gothic Anthology. Published by Haunt Publishing and edited by Lauren T. Davila, They Saw the Dead explores what it is to be truly haunted. On the night, we'll be joined by editor Lauren T. Davila, as well as contributors Lauren McEwen, S. M. Uddin and Anuja Varghese.
About When Other People Saw Us, They Saw the Dead:
A faceless man stalks a woman's nightmares in Hollywood. A Kanontsistóntie is summoned to seek revenge in a monastery. A move from the projects to Manhattan leads to ominous shadows closing in. Two sisters discover a secret room in their farm, unearthing a sinister power.
When Other People Saw Us, They Saw the Dead is an anthology of dark, unsettling writing from some of the most exciting contemporary BIPOC writers. Blending Gothic, horror, folklore, fantasy and fairy-tale, these eerie short stories will disturb, move and humour you. Death is ever-present in the pages of They Saw the Dead, blending with notions of home, memory, grief and belonging, as well as gentrification, white supremacy and colonisation.
Lauren T. Davila is a Pushcart-nominated Latina writer currently pursuing her Ph.D. in English at Claremont Graduate University in California, USA. She holds an MFA in Fiction Writing from George Mason University and dual BAs in English and Creative Writing from Pepperdine University. After completing her studies, she plans to teach at the collegiate level while publishing poetry and fiction. Her writing has appeared online in Granada Magazine, The Paragon Journal, Ghost Heart Literary Magazine, Peach Velvet Mag, Voyage Journal, Second Chance Magazine, Headcanon Magazine, In Parentheses, and Poets Reading the News, and in print anthology, Hireath. She is editing multiple short story anthologies. She lives in Los Angeles where you can find her writing in coffee shops and swimming.
Lauren McEwen is a writer from the Atlanta area. A graduate of Howard University, her work has appeared in The Washington Post, The Tempest, AJC.com, Bitch Magazine, Madame Noire, The Baltimore Sun, Ebony.com and elsewhere. When she is not staring at a blinking cursor, or trying to squeeze words out of her brain like blood from a stone, Lauren can be found trying to justify buying more books despite the fact that her to-be-read pile is over three feet tall.
S.M. Uddin is a London-born author of gothic fiction and a 2020 graduate. Her literature preferences lean more towards the dark, with an unusual affinity for eerie tragedies or the viscerally uncomfortable. During her leisure time, her hobbies include not leaving the house, reading up on different psychological theories and admiring new K-pop videos. Whichever one requires the least talking.
Anuja Varghese is a Pushcart-nominated writer with a degree in English Literature from McGill University. Her work appears in Hobart, The Fiddlehead, Corvid Queen: A Journal of Feminist Folklore & Fairy Tales, Plenitude Magazine, So to Speak Journal, Southern Humanities Review and elsewhere. In 2021, she took on the role of Fiction Editor with The Puritan Magazine. She recently completed a collection of short stories (forthcoming from House of Anansi Press, 2023) and is working on a debut novel. She lives in Canada with her partner, two kids and two cats.
Please note: Tickets for our events are non-refundable. Professional photography and videography may take place during this event. Thank you for your understanding.