This Book Event has already taken place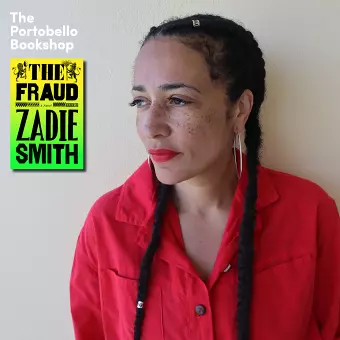 Doors open at 6.45pm.
Books for Book & Ticket options will be available to collect at the venue on the night.
It's a joy to be able to welcome bestselling novelist Zadie Smith to Edinburgh! This will be Zadie's only Scottish event to celebrate publication of The Fraud, her first novel since 2016's Swing Time. One of the most exciting and highly acclaimed writers of our time, Zadie Smith is known for the distinctive style and incisive wit that can be found in all of her work. In her latest book, The Fraud, Smith turns her hand to historical fiction to explore the contemporary concerns of self-deception, hypocrisy and truth.
Smith will be in conversation with award-winning journalist and author Chitra Ramawamy to discuss The Fraud as well as her past work, with time for an audience Q&A session.
Smith will be signing copies of The Fraud after the event.
This event will take place at the Gordon Aikman Lecture Theatre, 32 George Square, Edinburgh, EH8 9LH.
Please note that professional photography may be taking place at the venue on the night. Please note that as per our terms and conditions, tickets for our events are non-refundable. Latecomers may not be admitted, please arrive promptly.
About The Fraud:
Kilburn, 1873. The 'Tichborne Trial' has captivated the widowed Scottish housekeeper Mrs Eliza Touchet and all of England. Readers are at odds over whether the defendant is who he claims to be - or an imposter.

Mrs Touchet is a woman of many interests: literature, justice, abolitionism, class, her novelist cousin and his wives, this life and the next. But she is also sceptical. She suspects England of being a land of facades, in which nothing is quite what it seems.

Andrew Bogle meanwhile finds himself the star witness, his future depending on telling the right story. Growing up enslaved on the Hope Plantation, Jamaica, he knows every lump of sugar comes at a human cost. That the rich deceive the poor.

And that people are more easily manipulated than they realise. Based on real historical events, The Fraud is a dazzling novel about how in a world of hypocrisy and self-deception, deciding what's true can prove a complicated task.
Please note that tickets for our events are non-refundable. Thank you for your understanding.
Participants:
Zadie Smith Author
Zadie Smith is the author of the novels White Teeth, The Autograph Man, On Beauty, NW and Swing Time; as well as a novella, The Embassy of Cambodia; three collections of essays, Changing My Mind, Feel Free and Intimations; a collection of short stories, Grand Union; and the play, The Wife of Willesden, adapted from Chaucer. She is also the editor of The Book of Other People. Zadie Smith was born in north-west London, where she still lives. The Fraud is her first historical novel.
Chitra Ramaswamy Chair
Chitra Ramaswamy is a journalist and author from London. Her latest book, Homelands: The History of a Friendship (Canongate) is a work of creative non-fiction exploring her friendship with a 99-year-old German Jewish refugee called Henry Wuga. It won the Saltire Non-Fiction Book of the Year and was included in The Guardian's top memoirs and biographies of 2022. Her first book, Expecting: The Inner Life of Pregnancy (Saraband) won the Saltire First Book of the Year Award and was shortlisted for the Polari Prize. She has contributed essays to Antlers of Water, Nasty Women, The Freedom Papers, The Bi:ble, and Message From The Skies and recently completed a commission from the Alasdair Gray Archive. She is a freelance writer for The Guardian, the restaurant critic for The Times Scotland, and broadcasts for BBC radio. She lives in Edinburgh with her partner, two children, and rescue dog.